Driving in Japan – The complete guide for tourists and foreigners
So you want to drive in Japan, but are still unsure about whether you can do it or not? You have come to the right place!
But before we begin, I just want to say that you are making an excellent choice!
Driving in Japan is an exciting experience that offers you the chance to visit destinations that most other travelers do not get to see. Since you are no longer bound to areas only reachable by public transportation, you can exit the large cities and enjoy things like the Japanese countryside, or hikes near some of Japan's beautiful waterfalls, or even go on a ski trip! (Check out this article about driving and skiing in Niseko!) As an added bonus, if you travel with a group, you can also save some money on travel expenses.
Now that all sounds good and dandy, but if you are anything like I was, you are probably too worried about the difficulties of driving in Japan to fully enjoy your daydreams of your future Japanese get-away. But have no fear! I, an American, born and raised, have driven across Japan (without any prior practice) and live to tell the tale of how easy it is to drive in Japan. My hope is that this guide will give you all of the knowledge and information you need to put yourself at ease and to help you enjoy an unforgettable trip through Japan from behind the wheel.
Now let's dive right into the details!
Driving requirements
To drive in Japan there are a couple of requirements you must meet:
Must be at least 18 years of age
Must have a valid Driver's License or Translation (more on that next)
Acquiring International Driving Permits and Japanese Licenses
You will fall under one of two categories:
1. Short-term stay (tourists, people on business trips, etc.)
2. Long-term residents.
Case 1: Short-term Stay / International Driving Permit
For travelers temporarily visiting Japan, you will either be required to bring an International Driving Permit (IDP) under the Geneva Convention of 1949, or a driver's license from your own country with a valid legal translation of your license, which can be ordered from the company Driving-Japan. The required materials will vary depending on your country of domicile, so be sure to check the lists below!
Countries requiring an International Driving Permit:
| | |
| --- | --- |
| Asia | Australia, Bangladesh, Cambodia, Fiji, Hong Kong(China), India, Japan, Kyrgyzstan, Laos, Malaysia, New Zealand, Pakistan, Papua New Guinea, Philippines, Singapore, South Korea, Sri Lanka, Taiwan, Thailand |
| Europe | Albania, Andorra, Austria, Belgium, Bosnia and Herzegovina, Bulgaria, Cyprus, Czech Republic, Denmark, Finland, France, Georgia, Greece, Hungary, Iceland, Ireland, Italy, Luxembourg, Malta, Monaco, Montenegro, Netherlands, Norway, Poland, Portugal, Republic of San Marino, Romania, Russia, Slovakia, Serbia, Spain, Sweden, Switzerland, Turkey, United Kingdom, Vatican City (Holy See) |
| North America | Canada, United States of America |
| South America | Argentina, Barbados, Chile, Cuba, Ecuador, Guatemala, Haiti, Jamaica, Paraguay, Peru, Republic of Dominica, Trinidad and Tobago, Venezuela |
| Africa/Middle East | Algeria, Benin, Botswana, Burkina Faso, Central African Republic, Côte d'Ivoire, Democratic Republic of the Congo, Egypt, Ghana, Israel, Jordan, Kingdom of Lesotho, Lebanon, Madagascar, Malawi, Mali, Morocco, Namibia, Niger, Nigeria, Republic of Congo, Republic of South Africa, Rwanda, Senegal, Sierra Leone, Syria, Togo, Tunisia, Uganda, United Arab Emirates, Zimbabwe |
Countries requiring Driver's License from country of domicile + Legal Translation:
| | |
| --- | --- |
| Asia | Taiwan |
| Europe | Switzerland, Germany, France, Belgium, Estonia, Monaco |
The company Driving-Japan offers such translations, which are officially issued by the Japan Automobile Federation. You can conveniently order one online and it will be sent to your hotel address in Japan or even to your home address. They also offer the convenient service of printing it out within a week at a 7-Eleven store in Japan.
Case 2: Long-term Stay / Acquiring a Japanese License
For those residing in Japan and are planning to stay long-term, you get to go through the process of acquiring your very own Japanese Driver's License! You may start out by following Case 1 (International Driving Permit), however, those are only valid for one year. It is also illegal to return to your home country to renew your IDP and then return to Japan and use it again. The IDP is not a replacement for a permanent license.
Those of you who reside in Japan will fall into an additional two different cases. If you happen to be from one of many special countries or regions, you will be exempted from taking the written and driving examinations (Luckily, I happened to be from one of these!). If you are not from one of these places however, I extend my sincerest apologies, as the road ahead of you will be a little bit more grueling.
Let's start with Case 1: Countries and regions exempted from the Driving Examination
If you have a driver's license from one of these areas, you are eligible for a direct exchange of your license:
Austria, Belgium, Czech Republic, Denmark, Finland, France, Germany, Greece, Iceland, Ireland, Italy, Luxembourg, Monaco, Norway, Portugal, Slovenia, Spain, Sweden, Switzerland, The Netherlands, The United Kingdom, Australia, New Zealand, Canada, Taiwan, South Korea, or USA (only Maryland [from Jan 2016] or Washington State [from Jan 2017])
What you will need:
1. Your original non-expired driver's license
2. A passport or other proof that you have resided in the country that your driver's license was issued in for over three months
3. A translation of your driver's license into Japanese (You can get this through the JAF Note that will take about a week to receive the translation after submitting your original license.)
4. A 2.3cm X 3cm W X H photo of yourself (This is not the picture that will be used on your license, so don't bother wasting time trying to look good. They will take another picture of you at the licensing center. You can often find mini photo booths in train stations that will print these for you instantly. They usually have an English setting as well.)
5. Your residency certificate (Jyuuminhyo)
The process:
Once you have acquired all of the documents, locate the nearest licensing center that has jurisdiction over your area of residence. Pay special attention to the hours of operation for the counter that handles foreign license conversions. The center I went to was only open on weekdays and had a very slim time slot.
Once you have found your nearest location, all you have to do is show up to the counter with all of your necessary documents, no appointment necessary. I would highly recommend that you show up to the licensing center early. By early, I mean over an hour before the licensing center opens. From personal experience, I can tell you that the line outside of the licensing center is very long. I arrived an hour early, and there was already a long line forming. Depending on the licensing center you go to, they may also limit the number of foreign license exchanges per day. For example, the place I went to only allowed ten people per time slot. Take this advice into heavy consideration!
Once you have reached the counter, the process is very straight-forward and the staff will walk you through everything. There are foreigners from all backgrounds that speak all kinds of languages so I found that most of the staff do not make much of an effort to communicate with you unless there is a problem. Just hand over all of the documents listed above and they will take care of all of the paperwork. All you will need to do is sign a couple of forms and have another picture taken (the one that they will actually put onto your license).
Your license will be printed out the same day, though it will require you to sit around for a little bit. Expect to spend 4-6 hours in the licensing center in total (Bringing a book or something else to entertain yourself might be a good idea).
Case 2: Countries and regions not exempted from the Driving Examination
What you will need:
1. Your original non-expired driver's license
2. A passport or other proof that you have resided in the country that your driver's license was issued in for over three months
3. A translation of your driver's license into Japanese (You can get this through the JAF Note that will take about a week to receive the translation after submitting your original license.)
4. A 2.3cm X 3cm W X H photo of yourself (This is not the picture that will be used on your license, so don't bother wasting time trying to look good. They will take another picture of you at the licensing center.)
5. Your residency certificate (Jyuuminhyo)
6. A good friend or translator who speaks fluent Japanese (if you can't)
The process:
The first step in obtaining your license is to gather all of the required materials mentioned above. After you have done so, you will need to contact your local licensing center that has jurisdiction over your area of residence and make your first appointment. This is where a Japanese speaking friend or a translator will come in handy. Also, be aware that most of these centers only allow appointments on weekdays. The centers can also be very busy depending on the time of the year, so do not be surprised if your appointment is scheduled several weeks out.
The next step is to actually show up to your appointment. Your first appointment will mainly be a paperwork check. They will check your passport closely to make sure that you have lived in the country of your original license for at least three months, and verify that all of your other documents are valid.
Next you will need to schedule a second appointment. This is the practical examination, which is notoriously difficult. Do not feel bad if you fail, most people take it at least two or three times before passing. The test is not so much about your driving skill, but rather about whether you know how to take the test or not. It is highly recommended that you do a practice session before attempting to take the exam. Note however, that some instructors require you to have an examination date already determined before they practice with you.
There is an abundance of materials online, and I recommend studying up on the material as much as you can before attempting the test to boost your chances of passing on your first try.
If you pass the test, they will print out your driver's license on the same day.
The final step is to go and reward yourself. Acquiring your Japanese license is no easy task!
Basic Traffic Rules and Unwritten Rules
Alright now that you have learned about getting licensed, it is important to know about some basic traffic rules for driving in Japan:
1. In Japan you drive on the left and your steering wheel is on the right
2. You may not turn on a red light.
3. Motorcycles are allowed to pass you on your left. Be wary of this when changing lanes.
4. On highways the passing lane is on the right. (Police actually crack down on this rule so don't stay in the right lane too long)
5. On normal roads the speed limit is usually 60km/hr, do not go over this speed even if there are no signs
6. On highways the speed limit is usually 100km/hr
7. Seat belts must be worn by all passengers in the vehicle.
8. Children under 6 years of age are required to use child seats of appropriate size
9. Driving under the influence of any drugs or alcohol is strictly prohibited.
Here are a couple of unwritten rules as well:
1. If you let somebody into your lane they may respond by blinking their hazards 2 or 3 times. This simply means "Thank you."
2. If you see hazards on a highway in the distance it could mean that the traffic is coming to a sudden stop. If you see this, slow down and turn on your hazards for the person behind you.
Driving on highways and Expressways
Perhaps one of the biggest fears for new drivers in Japan is entering a highway or expressway for the first time. But don't worry! There is nothing to be afraid of. Like in most countries, highway driving is actually easier than driving on the narrower city streets.
The main differences between the highways in Japan versus those of other countries is the ETC system (more on that next), and the passing lanes. The ETC system is a way to pay road tolls electronically. You can learn more about this in the next section. As for passing lanes, in Japan the passing lanes are on the right side. Do not stay in the right lane too long or you could be pulled over (The Japanese police actually enforce this rule).
ETC Cards and road tolls
"ETC Card" stands for Electronic Toll Collection card. Having an ETC card installed in your vehicle enables you to use the ETC toll gates (seen in Image 1 and 3 below). If you do not have an ETC Card installed in your vehicle you will have to go through the regular toll booth (Image 2). The ETC Card is very convenient because all of the tolls are automatically accrued to your card without you having to pull over and dig out exact change to pay the tolls. If you are renting a car, you will most likely pay for these accrued tolls once you have returned the vehicle, if you have your own ETC Card, it is most likely connected to your Japanese credit card and will automatically charge you through that account.
How to use the ETC Toll gates:
Whenever you enter a major highway or expressway, chances are you will come across a toll gate quite quickly. Your two or three lane road may suddenly split into 6 or more lanes and cause a sense of panic, but don't worry! Just familiarize yourself with these three signs, and you will be completely fine.

ETC Only

Cash Only

Both Okay
As you probably have figured out by the images above, you can use an ETC cards on toll gates that have the first and third sign displayed. Here is what a toll gate looks like: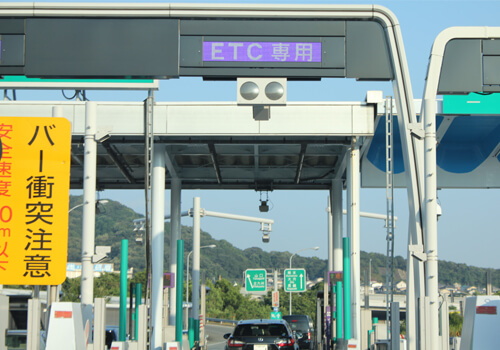 If you are paying with an ETC Card, slow down to 20Km/hr as you pass through the gate. This is to insure that you do not hit the gate arm. Also note that this gate arm usually does not rise until the very last second, so do not slam on your brakes, it is completely normal.
Save money on tolls! Use Expressway Passes!
If you plan on driving far distances, odds are you will be using a lot of expressways. These toll charges can add up quickly, and can be pretty expensive (sometimes around $10USD just to use a highway one-way!). Luckily, if you are a traveler from overseas, you are eligible for many Expressway passes. These expressways passes allow you to pay a one time flat fee and provides you with unlimited use of the expressways in the designated region. For example two of the most popular passes are the Hokkaido Expressway Pass (HEP) and the Kyushu Expressway Pass (KEP). If you have not guessed already, the HEP give you unlimited access to the freeways in Hokkaido, and the KEP in Kyushu.
If you plan on renting a vehicle be sure to check whether the rental car shop is an official distributor of the expressway pass you are interested in. Car rental companies are required to apply and meet certain requirements in order to distribute the passes. (NICONICO Rent a Car offers both the HEP & KEP)
Traffic Signs
To protect other drivers and yourself, you should familiarize yourself with Japanese traffic signs. Here are most of the common signs you will see. In addition to these signs also note that you might see large white characters written directly on the street that will look like this 止まれ. This means to stop and is sometimes used instead of the normal stop sign.
Parking
In Japan there are two types of parking lots. Most of them will be the gate type parking, however, it is good to also know how the plate types work in case you have no other option.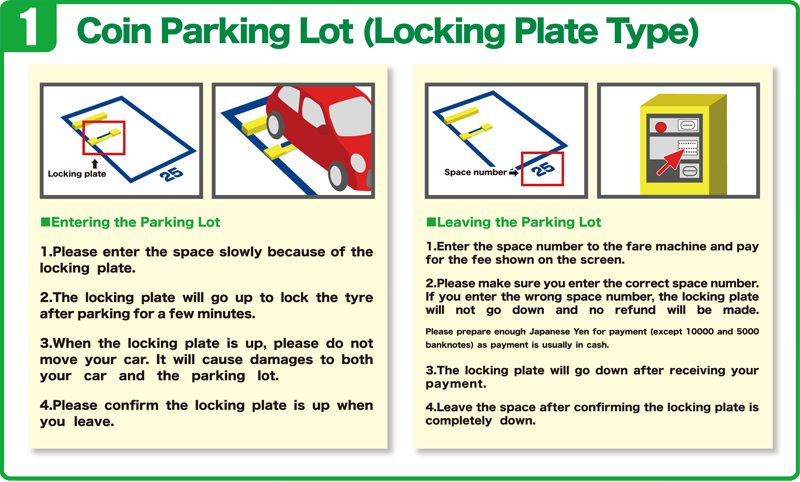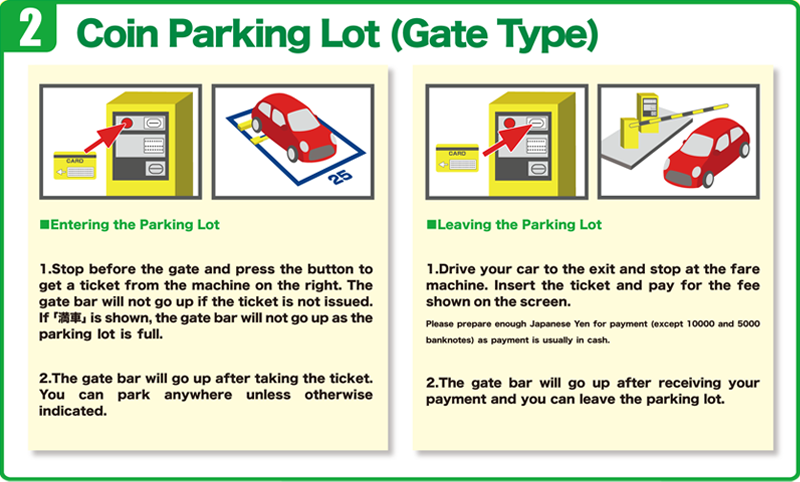 Renting a Car
Renting a car in Japan is very simple, and there are several companies that rent cars to foreigners with International Driving Permits (Not all companies do). Here is what the rental process looks like:
1. Book a car. You can use several online travel agents to rent cars in your preferred language, or visit the rental car company websites directly.
2. Arrive on your pick-up day. If you are renting from an airport location, you will either go to a designated counter or a designated shuttle pick-up area. Be sure to get this information from the company you are renting from before you arrive to avoid any complications.
3. Once you have reached the shop, you will be asked if you would like to add any optional items or add a safety plan. The car rentals already come with basic insurance coverage, however the safety plans will provide additional financial coverage (usually covering your deductibles). After you have confirmed your options you will sign the rental agreement and will be lead to your car.
4. The shop staff will walk around the car with you and markdown any scratches or dents already on the vehicle. This is to prevent disputes over whether you have caused any damage to the vehicle during your rental period. Don't be afraid to point out any scratches that the staff might have missed. After the inspection you will be free to go.
5. Return the vehicle. Before returning your vehicle, most car rental companies require that you fill up the gas tank completely at a nearby gas station. Be sure to keep your receipt as proof that you have filled up the car properly.
Driving Tips for the Beginner
Driving in Japan can be a terrifying experience, so here are some useful tips to stay safe on the road:
1. If your car comes with a built in Navigation system, use it. Japanese roads are not always simple. You will find highway entrances in weird places, intersections that split into five different directions, and so on. The Japanese navigation systems provide useful visuals that make navigating busy streets very easy.
2. Drive around some quiet streets or neighborhood for about 5-10 minutes before beginning your journey. That should be enough time to get used to driving with the wheel on the right and the position of the blinker (In the US the blinker and windshield wiper were in opposite positions. Let me tell you, my windshield was squeaky clean during our entire trip.)
3. Drive very slowly in small neighborhoods. Japan has a lot of foot traffic and cyclists. The last thing you want is to run anybody over.
4. If you are renting a vehicle, try to rent a smaller car if possible. Japanese streets are very narrow and having a smaller car makes it a lot easier to turn and park in tight spaces.
5. Have someone sit shotgun with you to point out signs you may have missed and to help you with navigation. This will take off a lot of stress, allowing you to relax and focus on safe driving.
6. This is not really a tip, but do not be scared. Driving in Japan is probably not very different from driving in your home country. After getting behind the wheel for a few minutes you will begin wondering why you were even stressing in the first place.
Have fun driving!
Thank you for reading my guide! I hope it gives you the confidence to go out and explore Japan from behind the wheel. Like I've said many times throughout this article, driving in Japan is easy! With the basic knowledge provided in this guide, you will be fully prepared to drive in Japan. You will not regret making the decision to explore Japan in this exciting and unique way. Happy travels!
More Tips / Post for driveing in Japan
1.【International Driving Permit – Japan】
3.【What to when driving during an earthquake】
4. 【Insurance Plans Introduction】
6. 【Tips for Driving in Kanagawa】
7.【Tips for Driving in Fukuoka】