NICONICO Rent a Car
Kansai International Airport (KIX)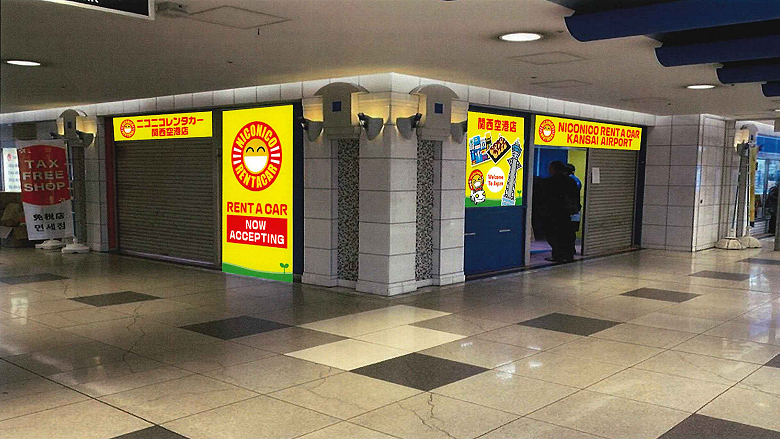 Phone:

+81-72-429-9085

Address:

1, Rinkuoraikita, Izumisano-shi, Osaka, 598-0048

Hours:

Weekdays: 08:00 - 20:00
Saturdays: 08:00 - 20:00
Sundays: 08:00 - 20:00

One-Way Rental:

Narita International Airport - 40000JPY
Shin-Yokohama Station - 35000JPY
Fukuoka Airport - 40000JPY
Nagasaki Airport - 55000JPY
Kagoshima Airport - 55000JPY


Accepted Cards:
Car Rental at Kansai International Airport
■ Just 5 mins tram ride from Kansai Airport 
NICONICO Rent a Car provides the best car rental prices around Kansai Airport!
NICONICO Rent a Car's newest shop is just 5 minutes train ride away from the airport. Take you and your loved ones on an exciting trip through Kyoto, Osaka, Nara, and more at your own pace with a rental car!
Although the Kansai area has some large metropolitan areas, it is very easy to drive and navigate in Kansai in comparison to the Tokyo area, as it is less crowded.
All car rentals are equipped with a multilingual GPS as a standard (EN/CN/KR/JP).
■ Enjoy Osaka ,Kyoto and Nara more by driving  
If you plan to visit to have trip in Osaka, Kyoto or Nara, driving from NICONICO Kansai Airport shop to these places would not be long. Just Within 1-2 hours.
Moreover, you can get rid of crowded tram/subway , and your schedule will not more free.