Self-Drive: New Chitose Airport to Niseko Ski Resort
November has ended, and the ski season has just begun! That means it is the time of year again, where skiers and snowboarders from all over the world come to Hokkaido to visit the world-famous Niseko ski resort. Now you're probably wondering "what makes it so great? Why would anyone fly that far just to ski?" Well, to answer your question simply, it's because the snow in Niseko is like any other in the world!
In this article I will share with you a simple itinerary/drive course that I followed during my trip to Hokkaido, and give you all the information you need to know about driving from New Chitose Airport (Sapporo) to Niseko ski resort.
The Itinerary
Below is a very simple plan that I followed:
1. Landed at New Chitose Airport
2. Picked up the rental car
3. Quick stop in Sapporo city
4. Drove Northwest to Otaru
5. Drove Southwest to Niseko Ski Resort
6. Snowboarded
7. Returned home taking the Southern route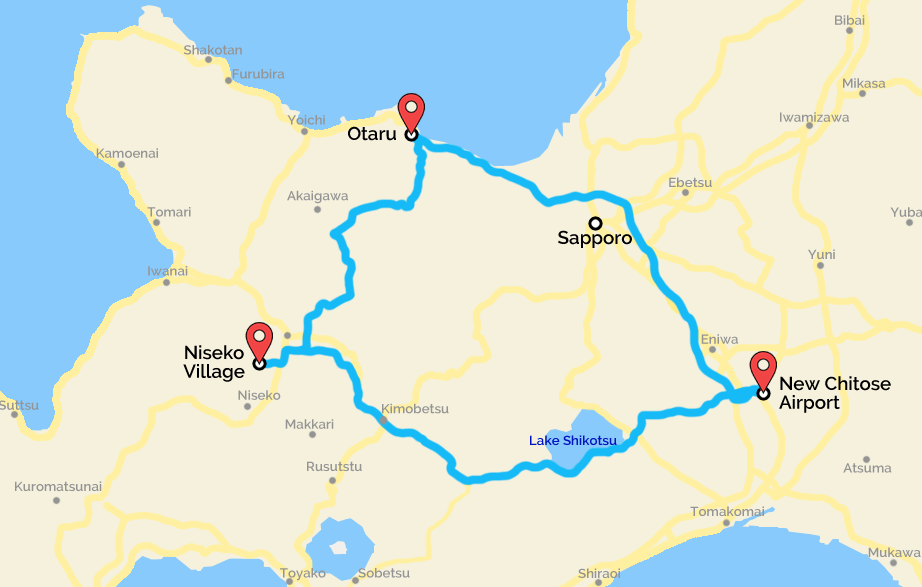 New Chitose Airport and picking up the rental car
I flew to New Chitose Airport from Tokyo Narita Airport. I took JetStar airlines, an LCC operating domestic flights all around Japan. For those of you who don't know what LCCs are, you're in luck, because this will save you lots of money on travel.
LCC stands for Low Cost Carrier. They are just airlines where passengers are not divided into classes (a jet with only economy class seats). Food and drinks are not included with the ticket, but you can pay for snacks and drinks separately as flight attendants with food carts pass by. Make note that they usually only accept cash.
There are also a couple of caveats you should keep in mind. Unlike the most major airliners, LCCs can cancel flights at any time if there are not enough seats sold for that particular flight. They are budget airlines and save on operating costs by flying mostly-filled jets. For this particular flight (Tokyo – New Chitose) it probably is not something to worry about, but keep this in mind if you fly to more uncommon destinations. Second, LCCs are infamous for delayed flights. Make sure your plans are a little bit flexible (plus or minus 2 hours will probably be enough).
Getting back on track, after landing at New Chitose Airport, I walked directly to the NICONICO rent a car shuttle bus pick-up area located right outside of the Domestic Terminal. The bus is shared with three other car rental companies. I simply walked over to the bus, told the driver which company I was renting from, and we immediately departed to the rental car shop. The shop was just a short ride away – no more than five minutes. After getting off of the bus I was instantly welcomed at the front counter. There I signed my rental agreement, payed for the car, and then did a quick scratch check of the vehicle. The process took about ten minutes. The staff were very nice and helpful.
I chose a car from the SP Class. It was a newer vehicle, equipped with snow tires, and a multilingual GPS system (English, Chinese, Korean, and Japanese). The roads were very snowy and icy, so snow tires were a must! Fortunately, the snow tires were included with the vehicle free of charge. They handed me my keys and I was ready to begin my great Hokkaido adventure.
Sapporo
I started my journey towards Niseko by making my way up north to Sapporo. There I planned on grabbing a quick lunch before hitting the road again. The heart of the city was only about thirty minutes away from the rental car shop. Hokkaido is a rural area, so the roads were not crowded at all. After arriving at Sapporo, I went to a sushi belt restaurant. Although you can find these all over Japan, the freshness and the quality of the fish in Hokkaido is much better, therefore the belt sushi was also much more delicious. I spent about an hour eating until I was stuffed. After inputting my next destination into the GPS, I was on my way again.
Otaru
Otaru was not high on my list of places to visit in Hokkaido. Otaru is famous for its old-style buildings and picturesque canal and streets. From what I read on the internet, people were saying that there was not very much to do and it wasn't very exciting. But I saw that Otaru was on the way to Niseko anyways, and stopping wouldn't really take too much time, so I decided to ignore what the people on the internet said, and went to see it for myself. And thank goodness I did! It was definitely a highlight of my trip.
I arrived around 4PM and the snow was really starting to pick up. The town was beautiful. It looked like a winter wonderland. Excited, I parked in the first parking lot I saw (costed 600JPY), pulled out my camera, and began to walk around. I didn't know at the time, but the town is located right along the northern coast of Hokkaido. I immediately saw a large Coast Guard ship docked nearby the parking lot. It was awesome seeing it through all of the snow flurries.
I kept on walking inland until I came across the famous Otaru Canal. There I saw many couples taking selfies on the small bridge crossing the canal, trying to capture the beauty of the Christmas lights alongside the walls of the canal below. It was a beautiful spot, so I spent a little time there to take it all in.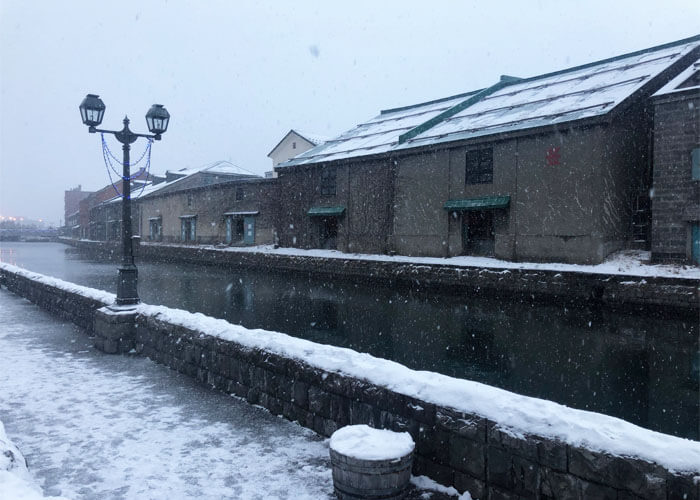 After I had enough of the bridge and canal, I continued to walk down one more block until I started seeing various small shops and restaurants. Even though I was still a bit full from my sushi lunch, my sweet tooth would not let me pass up some sweets.
I went into a cafe called "LeTao Pathos". The cafe is two stories tall. The bottom floor sells souvenirs and to-go order cakes, whereas the second floor sells the same cakes, but allows you to enjoy them at your own pace in a cafe environment.
The number one seller was the "Fromage Double," also known as the melting cheesecake. I know it is impossible to capture the deliciousness in words, but that won't stop me from trying. It was a very soft cake, basically a lighter (but not too light) and fluffier cheesecake. It was also not as sweet as I expected, which took me by surprise. It had a cheese taste to it, but it was unique and different, and very delicious. Maybe looking at the picture will give you a better hint as to what it tasted it like.
I knew the Fromage Double was going to be delicious, but I was curious about the other cakes as well. That is why I ordered a sampler plate. It had the top 3 selling cakes (including the Fromage Double). All of them were fantastic, but I would have to agree with the peoples' choice. The Fromage Double was the best, hands-down.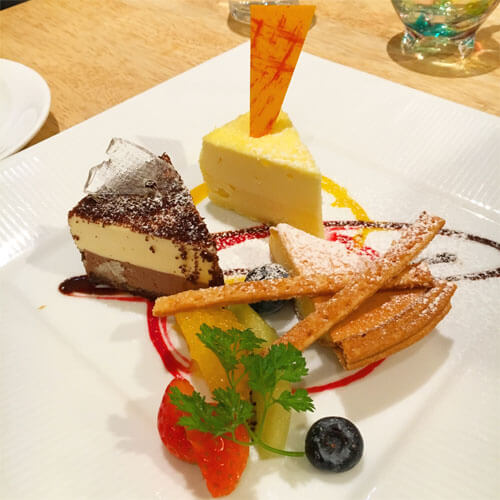 After finishing my dessert, I was now hungry again for dinner (wait what?). I walked through the town some more and saw many tourists eating seafood inside of small seafood shops. The shops would grill the seafood right outside of their doors, and the smell just made my mouth water. I couldn't take it anymore and let my curiosity (and stomach) get the best of me. I ordered a King Crab leg (1,500JPY).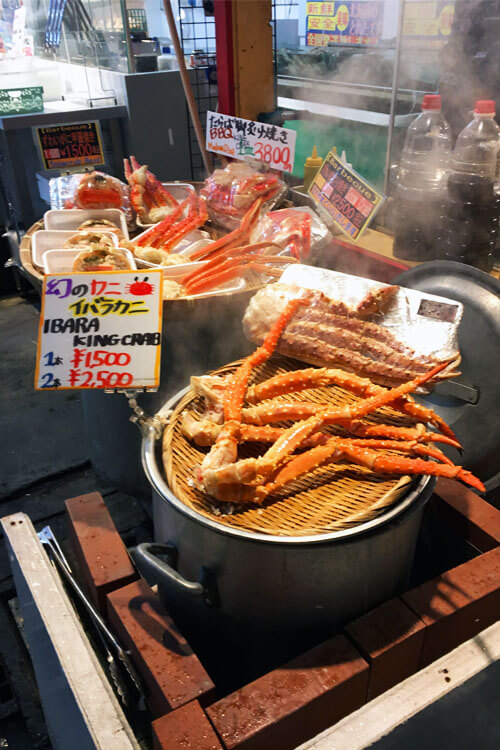 The shop staff sat me at a table and began to grill the crab. They returned with the grilled crab leg, and they already made cuts in the shell so I could easily eat it with a pair of chopsticks. I am not exaggerating when I say this was the best crab I have ever tasted. In a small seafood shop, sitting at an ordinary looking table, surrounded by curious tourists walking around, I was closing my eyes and enjoying the most wonderful tasting crab. That was when I knew all of the people on the internet were wrong. Otaru was amazing.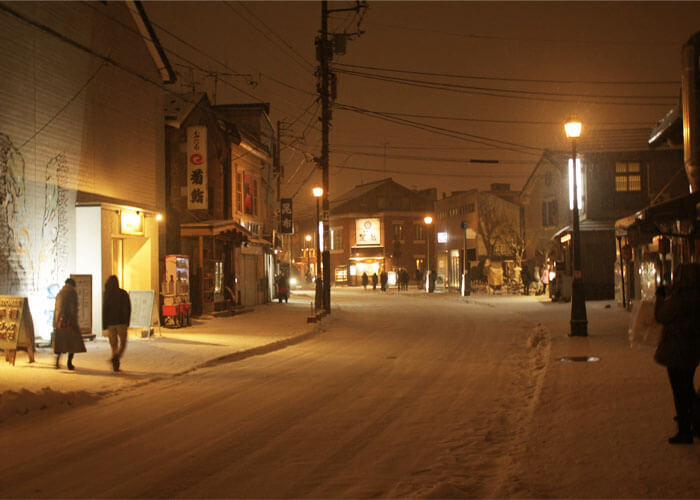 It was starting to get darker, which made Otaru even more beautiful because of the glowing streetlamps and the snow. I wanted to stay longer, but it was getting late and I wanted to have enough time to enjoy my hotel at Niseko. I made my way back to the car to finish off the final leg of the trip.
Niseko: The hotel
I was worried about driving to Niseko. It was already dark outside, it was still snowing, I was worried about strong winds in the mountains, and it was only my second time driving in Japan. I followed the GPS through some quiet city streets. I didn't slide at all on the snow with my tires. I kept on following the city streets waiting until I would finally be forced to enter a dark and dangerous mountain highway.. but that never happened. It turns out the roads to Niseko were all very well lit the entire way. The roads were not intimidating at all. Relaxing, I could even say! I was able to safely arrive at my hotel in just over an hour and a half.
I stayed at a hotel called Ki Niseko. It is located only 100 meters away from the ski lift and ski/snowboard rental shop, making it a very convenient choice. The hotel had a nice warm and comfortable atmosphere, and also had a very friendly staff. About half of the staff were Australians, so I had no problems checking-in in English.
My two favorite parts of the hotel were definitely the baths and the breakfast. If you go to the front counter, you can reserve a private hot spring bath. You are allowed to bathe privately with your family or significant other without being separated. Only one reservation is allowed per stay, and it is for a 40 minute slot.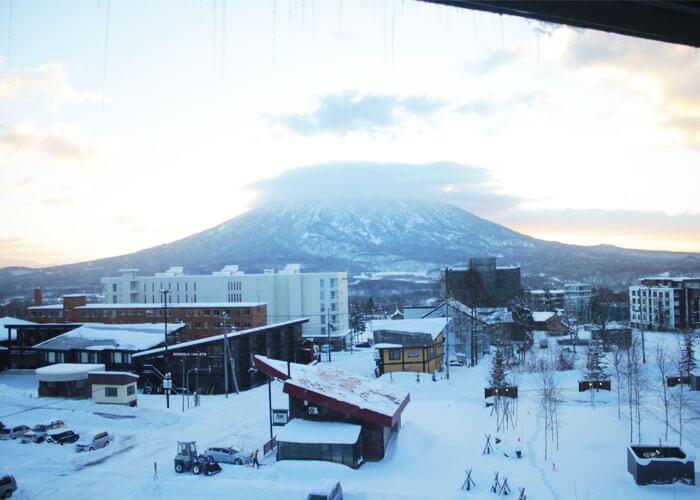 The breakfast buffet was fantastic. All foods were of high quality. I would personally recommend everybody to try the "Ikura-don," or Salmon roe over rice. It is just another dish that showcases the deliciousness of Hokkaido seafood.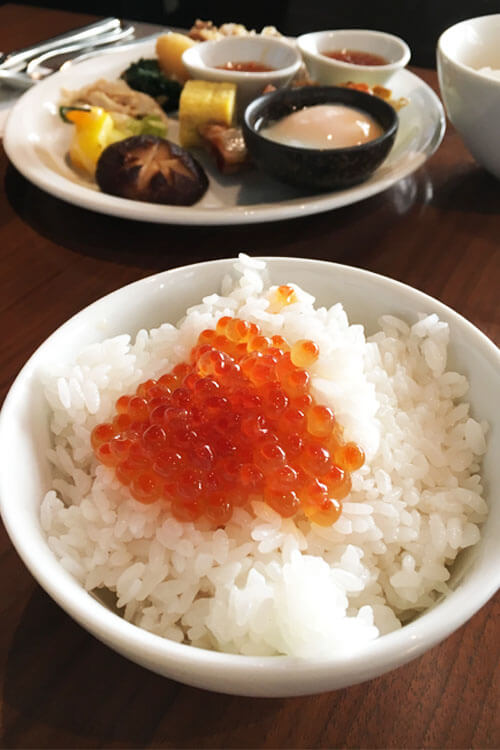 The only issue I had with breakfast was that I knew I would be snowboarding within the next thirty minutes, so I was unable to get seconds (and thirds.. and fourths). This was another mistake in planning. I wish I had more than just half a day to snowboard, so I could fully enjoy the breakfast and get some rest beforehand.
Niseko: Snowboarding
I would like to begin this section by saying, I am a total snowboarding beginner. This was my second time in my life snowboarding. I did not research the ski areas too well before coming, so I had no idea how difficult the slopes were going to be. I just saw that the ski maps showed a few beginner courses, so I thought everything was going to be fine.
It turns out that early December was still a little too warm, so the lower slopes were not open yet (take a wild guess where the beginner slopes were located). The only slopes that were open were the ones located higher up on the mountain. It still didn't register in my mind how difficult the mountain could be, so I took the gondola up the mountain. And it just kept going higher and higher and higher. Pretty soon I was at the middle of the mountain, staring up at the ski slopes, with my jaw dropped, watching skiers fly down the slopes. I was terrified. I was thinking that there was no way in hell I would make it out of this trip alive.
I walked over to a staff member, and embarrassingly asked where the easiest slope on the mountain was. He pointed me out to the "Shirakaba" and "Center" trails, telling me that Center was easier. This may just be a personal opinion, but Shirakaba was definitely easier. Center starts out with a very steep slope that would make any beginner quiver in fear. The Shirakaba trail is a little more flat, and does not have as extreme of a decline. I would label myself as a slightly athletic person. And Shirakaba was definitely manageable for a second-time snowboarder like myself.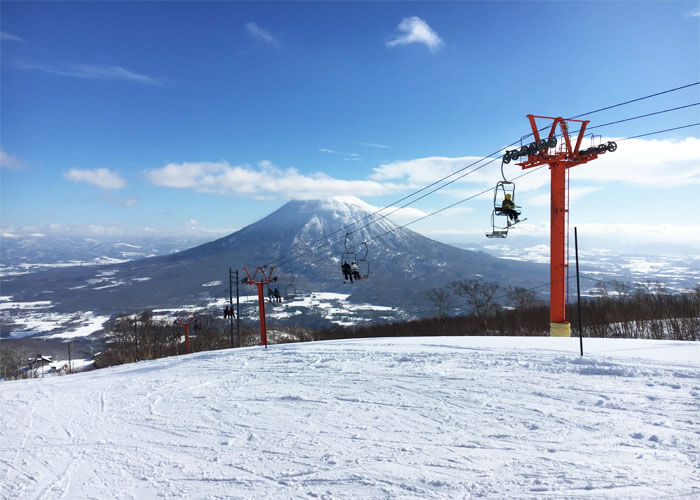 I think Niseko is a great place for pros and beginners alike. There are many trails of all difficulties, and the powder snow was of the highest quality. Even when I fell (and I fell a lot), it did not hurt. The powder snow was just so soft to land on. And watching all the pros cruise down some advanced slopes really inspired me to get better.
Going to Niseko completely changed my perspective on winter sports. It was definitely one of the most fun travel moments I have ever had.
Returning home
I decided to return to New Chitose Airport using a different route. It takes almost the exact same amount of time, but the drive is less city and more country roads. My advice if you take this road is to go during the day. The roads can get very icy, and it would be safer if you were able to see potential hazards. With that being said, the drive was very nice. I don't often get to see the Japanese countryside, and it was a great change of scenery.
Further down along the road, I passed by Lake Shikotsu. The road wrapped around the lake so it was impossible to miss. If you want to stop and see it,I recommend that you search up parking areas before hand. The parking lots would come up suddenly, but I was going too fast to pull into any of them.
After refilling the car, I returned the car at the shop. The return procedure was fast. I basically just handed them the keys and a receipt for the gas. The shuttle was already waiting, so I was able to get a ride to the airport immediately.
For a trip that was not planned so well, it was one of the most fun trips of my life. Niseko is definitely an area I will be coming back to.
Until next time!
Book a Car Now! Up to 46% cheaper than competing car rental shops in Japan!
Find the car to meet all of your travel needs. From fuel efficient compact cars, to large family-sized fans and camping cars, we have the vehicles to help make your trip a fun and memorable one!