Camping Cars & RVs in Japan
Bored of your normal vacations? Are you a camping enthusiast? Looking to escape the crowded cities of Japan? Whatever the reason may be, renting a camping car in Japan is something you will not regret! With the ability to sleep anywhere you like, you can explore Japan with ultimate freedom. In this guide I will cover everything you need to know about renting your own camping car in Japan and planning your own course (including finding good places to park overnight!).
License and Requirements
The requirements for renting a camping car in Japan are exactly the same as those needed for a standard car rental. You must be 18+ years of age and hold a valid driver's license to drive in Japan. For most people this will be an International Driving Permit under the Geneva Convention of 1949, but depending on what country you are from it is possible that you may only need a translation of your license. To figure out exactly which type of license you need, check out my other blog post on International Driving Permits. It is cheap and easy to obtain a valid license, but make sure you apply for it before coming to Japan!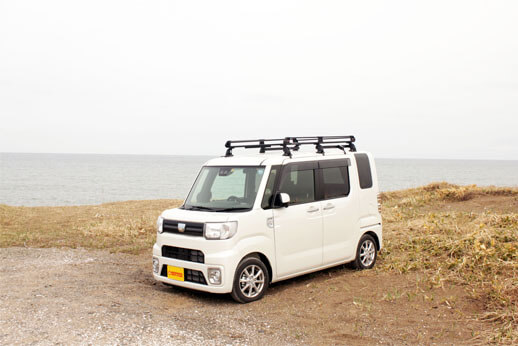 Renting a Camping Car
There are many companies that offer camping car rentals, especially in Hokkaido prefecture. These campers will widely vary in terms of available features, sizes, car models, price, etc. Be sure to compare several sites so you know that you are getting the best deal. Renting a camping car from these websites is usually straightforward. You will either need to email the company for a quote or fill out a reservation form directly online. Some things you will want to pay attention to are insurance coverage, cancellation policies, and the camp car features.
As I mentioned above, the prices widely vary for camping cars but you can typically expect to spend (Per day):
¥25,000+ for a large RV
¥22,000+ for a converted minivan camper
¥10,000+ for a mini camper
Camping Car Types
Depending on where you are traveling, how far you plan on driving, and how many passengers you have will affect which type of camping car you will need to rent. The typical selections offered at rental shops are Large RVs, Converted Minivan Campers, and Mini Campers.
Large RVs are what you would expect them to be. They are usually equipped with cupboards, beds, sinks, grills, etc. For larger groups (4+ Passengers) this is usually the recommended option. If you rent a large RV you should consider planning a trip centered around camping. Note that RVs have low gas mileage and traveling long distances could rack up costs quickly.
Converted minivans are another option for larger groups (4 Adults). These minivans usually include frames and racks to rig up several beds in the interior of the van. You will lower the car seats and build the racks above the seats. Note that converted minivans include very little features (no grill, sinks, etc.). Think of it has simply a bunk bed on wheels. Although the converted minivan lacks the features of the RV, it is a normal minivan so it does get much better gas mileage. If you want to travel far distances, this is an option to consider.
Mini Campers are similar to the Converted Minivans, but are even smaller. These campers comfortably sleep 2 people and also involve building your bed racks above the seats. This is a great option for the budget traveler and is a lot more cost effective than staying at a hotel every night.
Where can I Sleep??
This is probably the number one question we get from our customers. Luckily Japan offers many areas for people to stay in their cars overnight. Here are some of the common options:
– Highway Rest Areas
– Highway Service Areas
– Michi-no-eki (Road stations)
– Campgrounds
– Parking Lots
Highway Rest Areas and Service Areas are easy to find. They are usually marked on the vehicle's GPS. Worst case, you can always just get on a highway and you will probably reach one within 50 kilometers. The main difference between Rest Areas and Service Areas is that Service Areas have restaurants and shops. Rest areas are usually just parking lots with a restroom. Both of them allow people to park overnight.
Within the outskirts of some cities and towns, you can find Michi-no-eki, literally translated to "Road stations" (Look for these characters: 道の駅). These are similar to the highway's Service Areas and are very convenient for camping car travelers. They usually sell local goods and souvenirs during the day. Even the locals come to Michi-no-eki to pick up vegetables or other light shopping. These are free to park at overnight. Often times you will see other camping cars parked as well, providing a safe and comfortable atmosphere.
Camping grounds are a great option, especially if you rent a larger vehicle equipped with camping gear. They are usually located in beautiful forests near lakes or other points of interest. Keep in mind that you will
most likely need to reserve and pay for these camp grounds, but that is beyond the scope of this article.
Some people stay overnight in parking lots. Parking lots are usually paid for by the hour, and usually have an overnight price. The good think about parking lots is that you can find them in almost every city.
Google maps is usually good enough to find places to sleep, just by typing words like "Rest Area", "Parking", "道の駅", etc. However, for a better camping car experience I would highly recommend this website: syachuhaku.fxtec.info/ This is a Wiki site created by car camping enthusiasts, and they list great overnight parking areas for all over Japan. Although the website is only offered in Japanese it is very easy to navigate. Follow the step by step instructions below and you will be able to significantly increase the quality of your trip.
Step 1. Open the website and choose your prefecture from the map. (You may need to google translate the name of your prefecture from English to Japanese to find it on the map).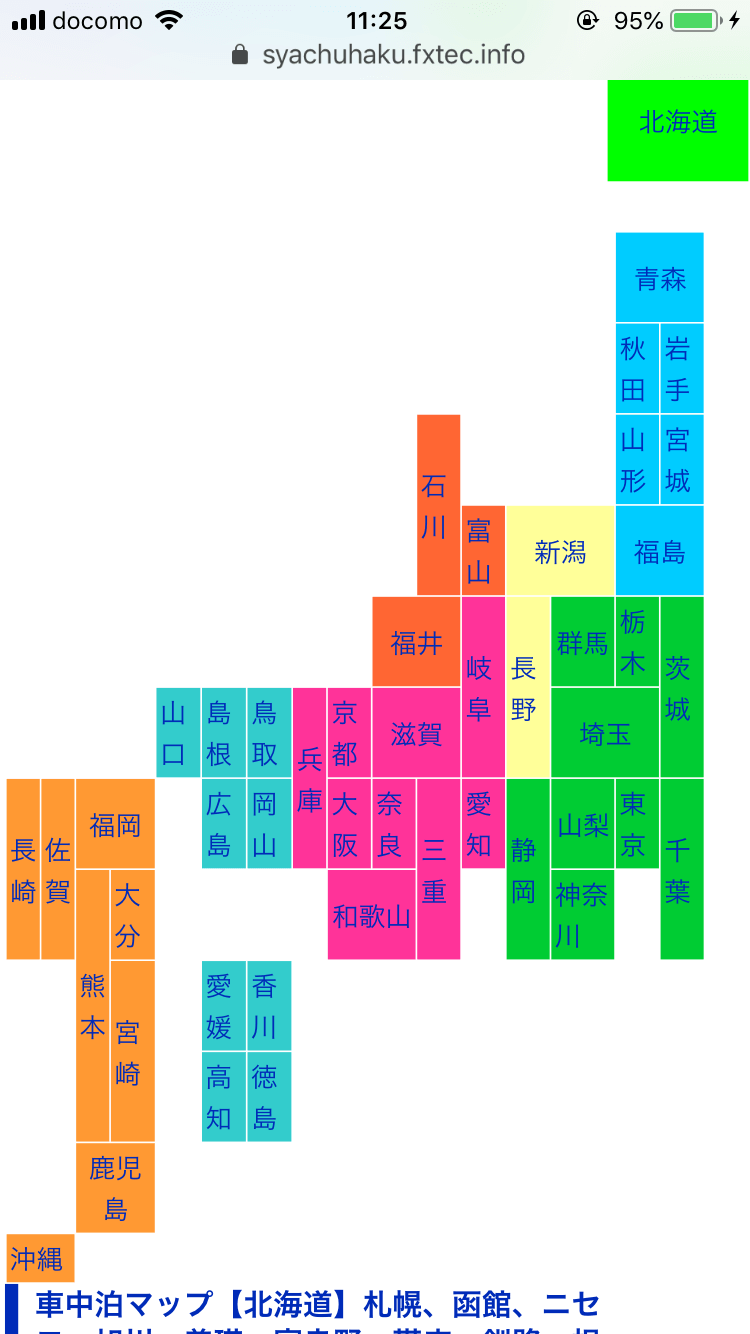 Step 2. Click on a pin on the map near the area you want to stay. The green houses represent parking areas, the blue pins represent beautiful night views, and the red circles with steam indicated parking areas with showers and/or baths.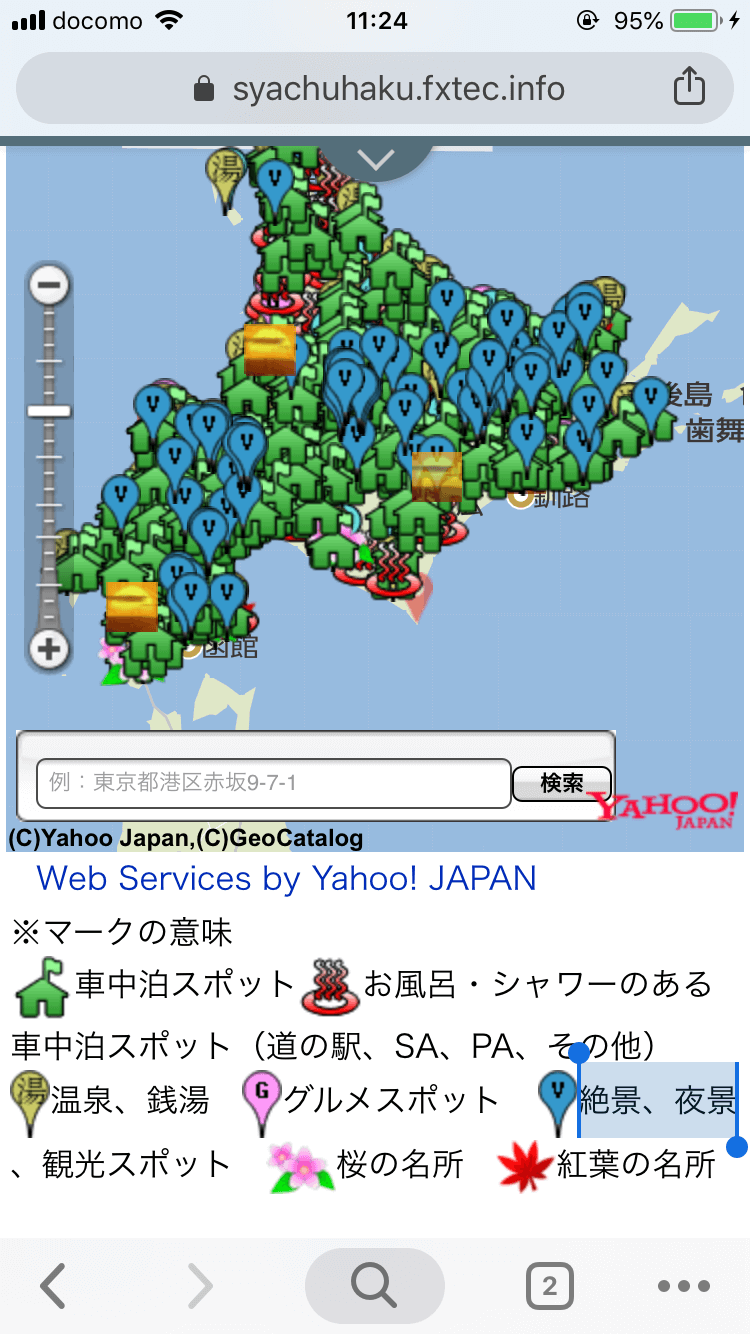 Step 3. In the dialogue box click on "GoogleMapsで開く". This will open the location in GoogleMaps.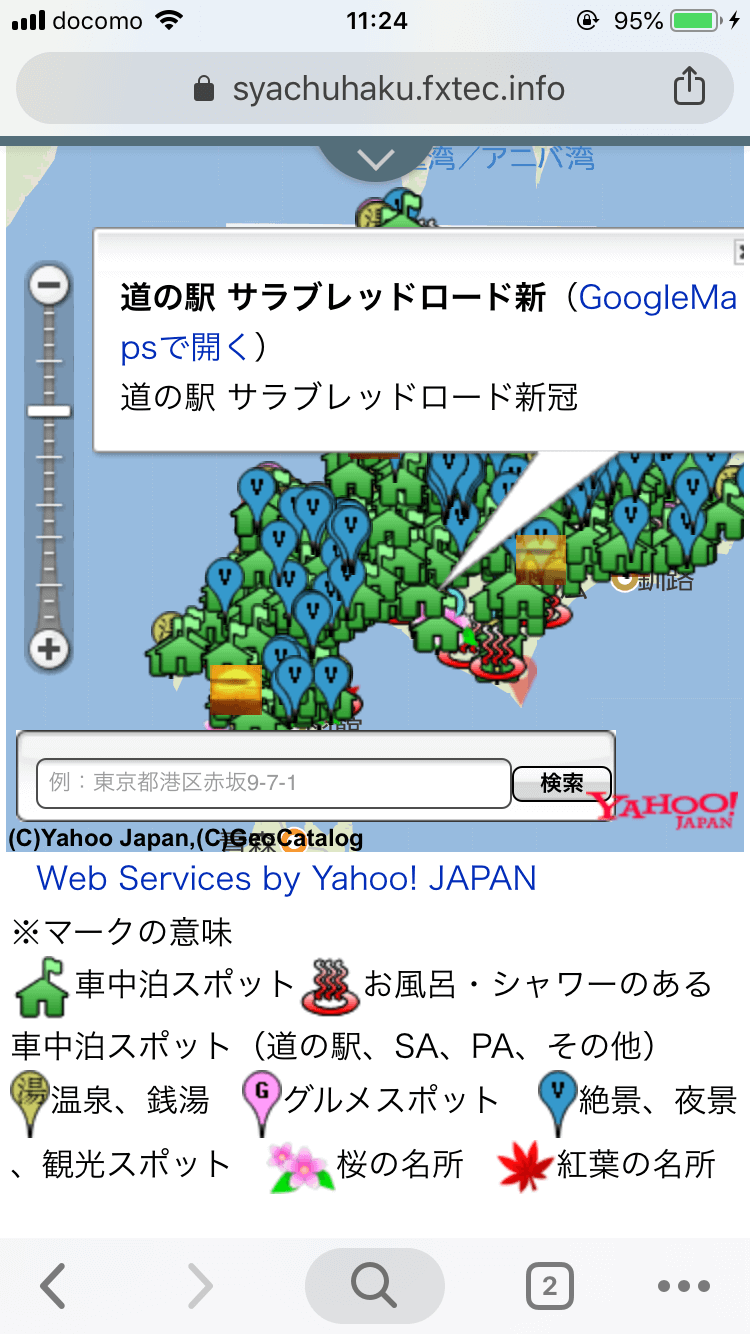 Step 4 (Optional). Switch to satellite view and inspect the area to see if it's to your liking.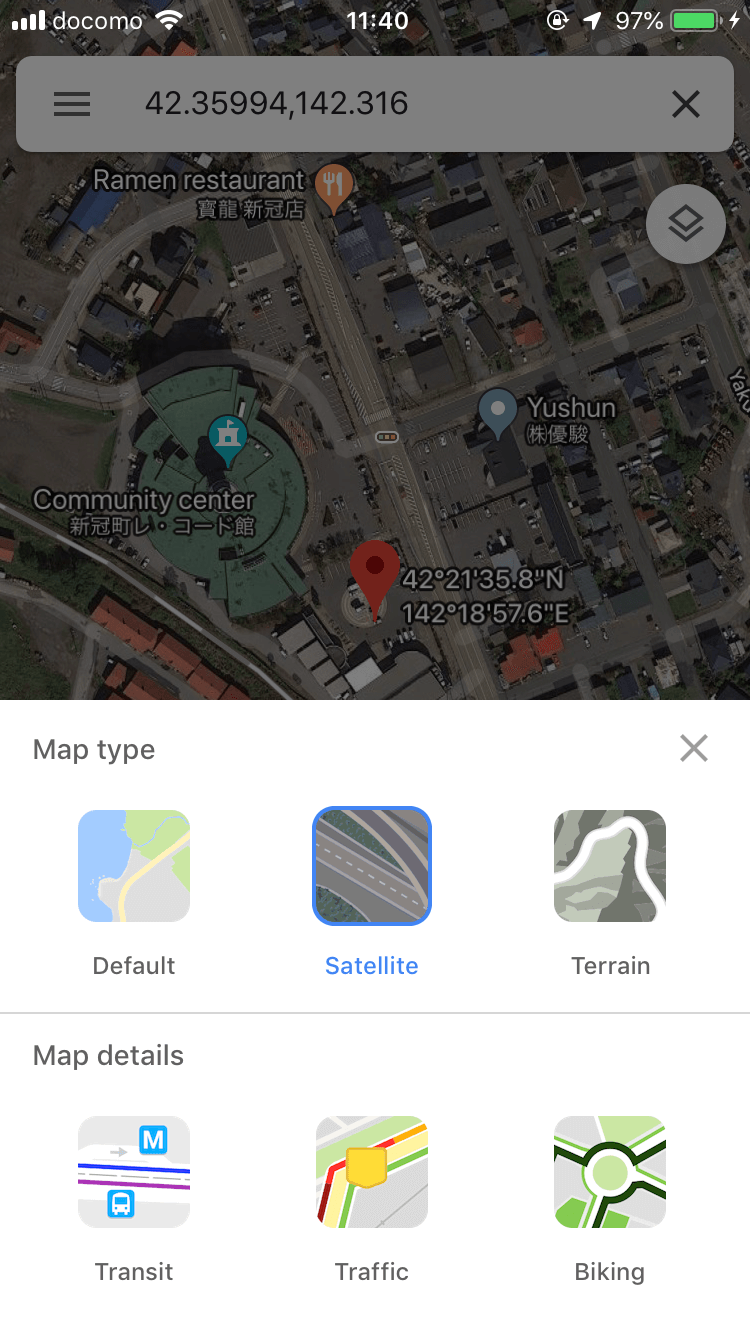 Useful Tips/Warnings
To make the best of your trip please take some of these tips/warnings into consideration!
1. Renting a camping car is best during warm weather. Nights can be cold (Fall-Spring), especially in Hokkaido.

2. Make a stop at a 100 Yen shop (Japanese version of a dollar store) like Daiso before starting your long trip. They have a lot of cheap and useful goodies like inflatable pillows, towels, travel toothbrushes, hand warmers, and emergency Aluminum blankets (highly recommended if you don't have a sleeping bag + easy to dispose when you're done).

3. Hotsprings (Onsens) are your best friend. Not only will you be able to keep yourself clean everyday, but it gives you time to relax your muscles from a tiring day of driving.

4. Be aware of wildlife. It is common for wildlife to run/jump across roads. Don't speed. Especially at night!

5. If you are in the mountains/forests it is helpful to research the animals in your area. Brown Bears in Hokkaido kill several people every year.

6. Get gas often. In the countryside you are never sure when you will reach the next gas station. I recommend filling up the tank whenever you reach half-full.

Camping Cars w/ NICONICO Rent a Car!

NICONICO Rent a Car Mini Camper.

NICONICO Rent a Car is now offering Mini Campers for rent! These mini-campers sleep 2 adults comfortably, and provides a camping experience that won't empty your wallet! If a Mini Camper is something you are interested in, check out our rates on our website. Our prices are very competitive and the vehicles are new and clean! We hope to see you in Japan soon!

All camp cars include curtains for privacy.

The Mini Camp Car has enough space for two adults to sleep!

Find a Camper!

Thanks for reading! If you have any questions feel free to let me know in the comments below. We will see you in Japan!