Make reservation on NICONICO RENT A CAR
---
1.Set date and locations for pick-up and drop-off
2.Set vehicles type
3.Selcet extras
4.Order information
5.Confirmation mail
6.Cancellation
---
STEP1. Set date and locations for pick-up and returning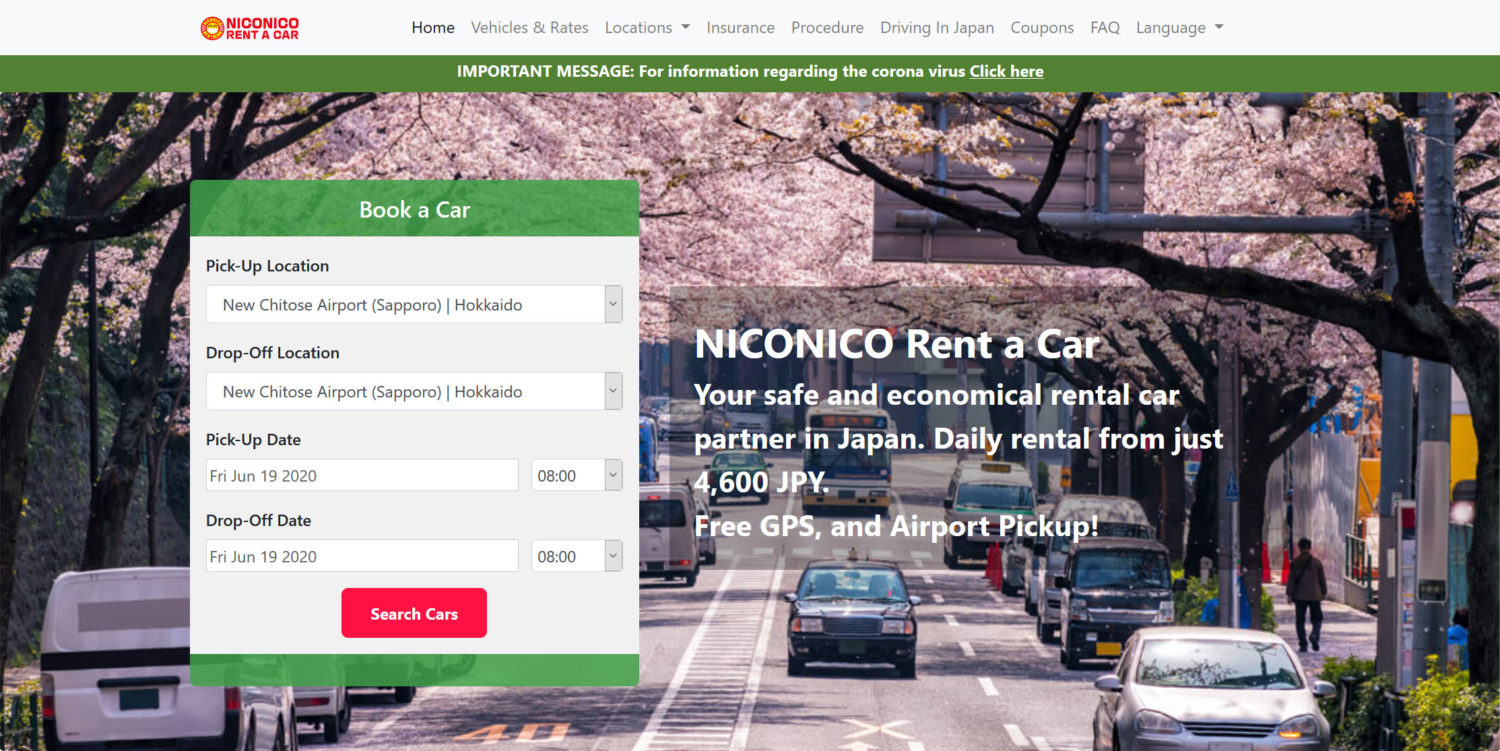 1. Set locations/shops for your pick-up and drop-off
2. Set dates for your for your pickup and r drop-off
3. Click 「Search Car」 ,and our site will show available car for you.
■ One Way rental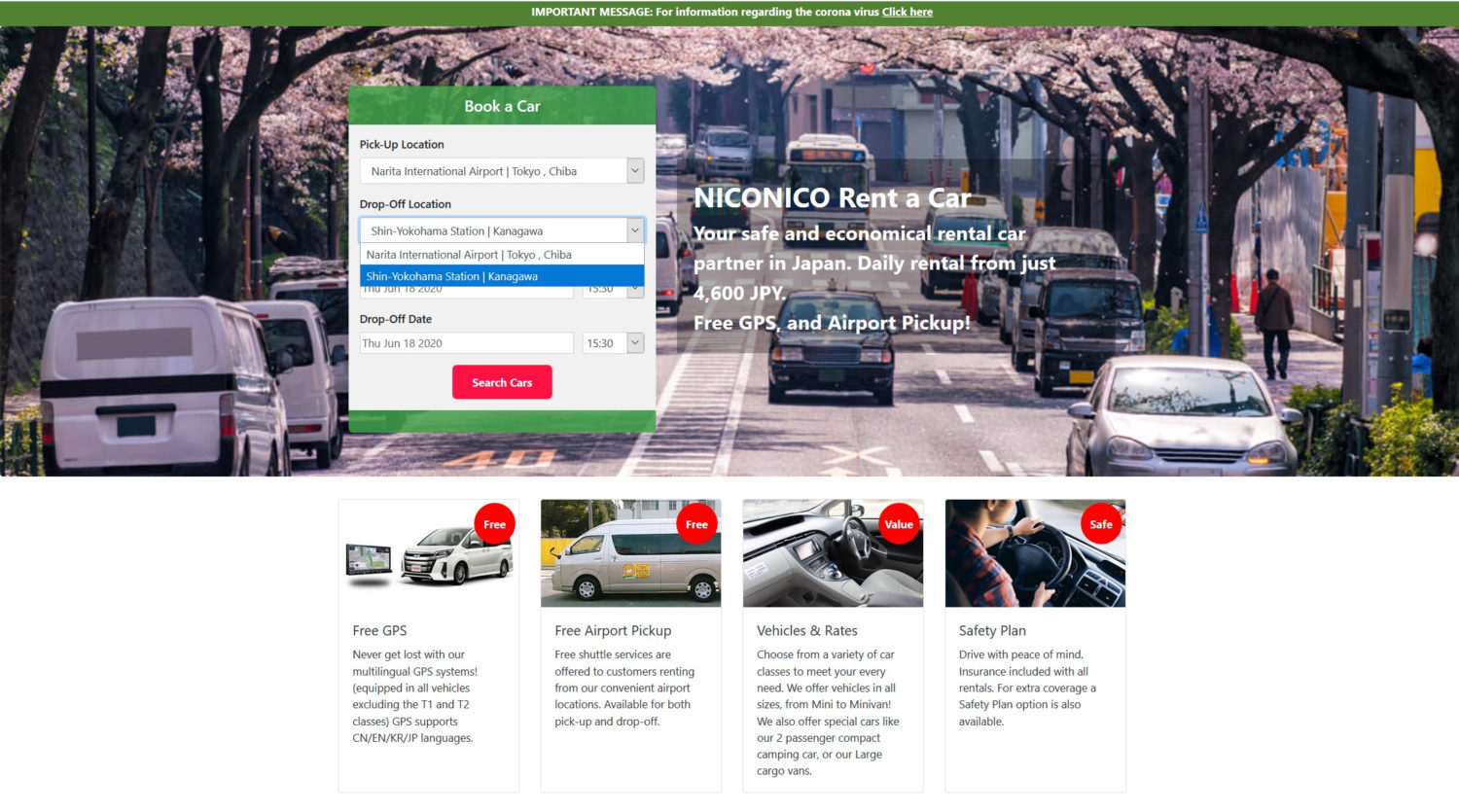 Some of our shops provide one-way rental service(extra fee needed)
While setting drop-off location, if it shows multiple options, it means you can choose to return car at different shop.
For instance, if you set pick-up location as Narita Airport, drop-off location will show Narita airport and Shin-Yokohama station, that means, it,s possible to pick up car at Narita shop and return at Shin Yokohama shop. But one thing to notice, one way rental takes extra fee (not free).
---
STEP2. Set Vehicle Type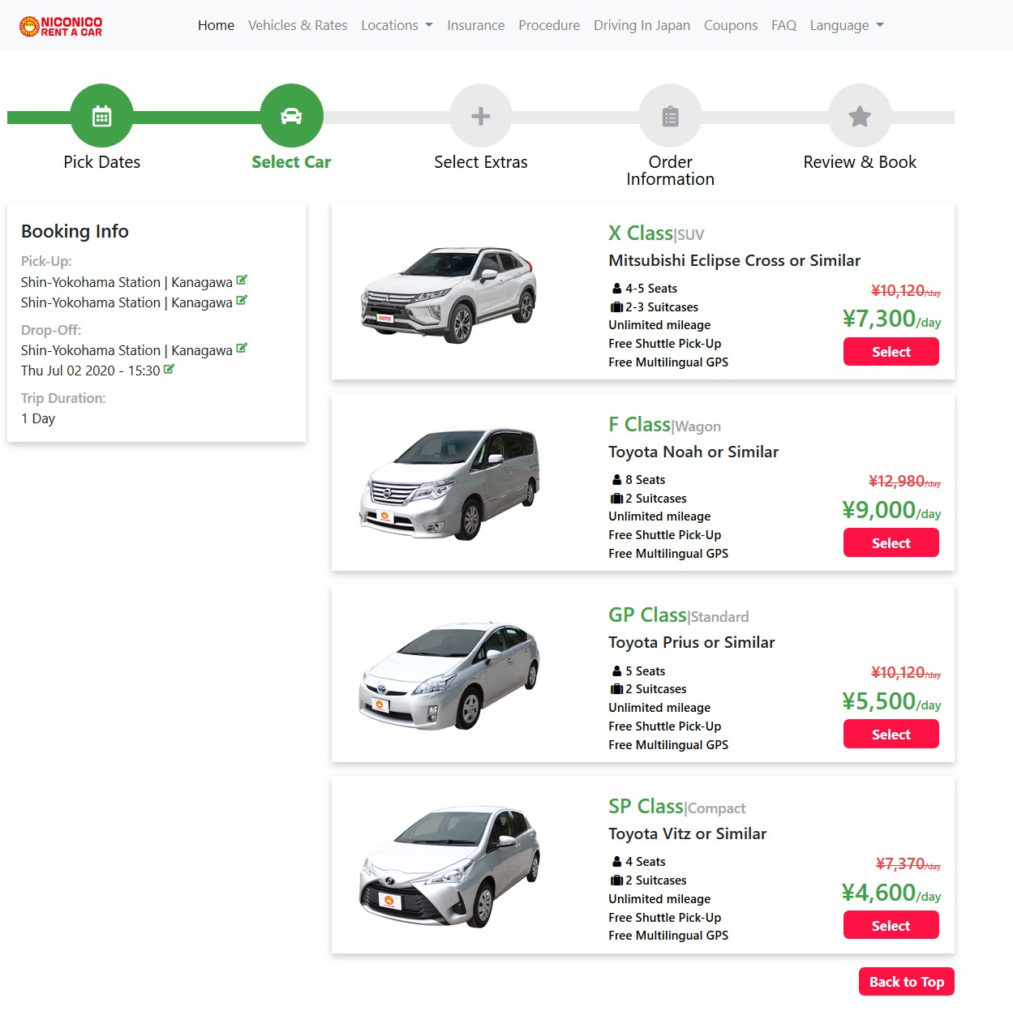 1. After clicking [Search Car],page would go to [Select Car] page, and you would see the available car types on this page.
2. Decide which one to rent and click [Select], and this step would be finished.
3. If you want to reset location/date, click[ Back to Top]
---
STEP3. Selct Extras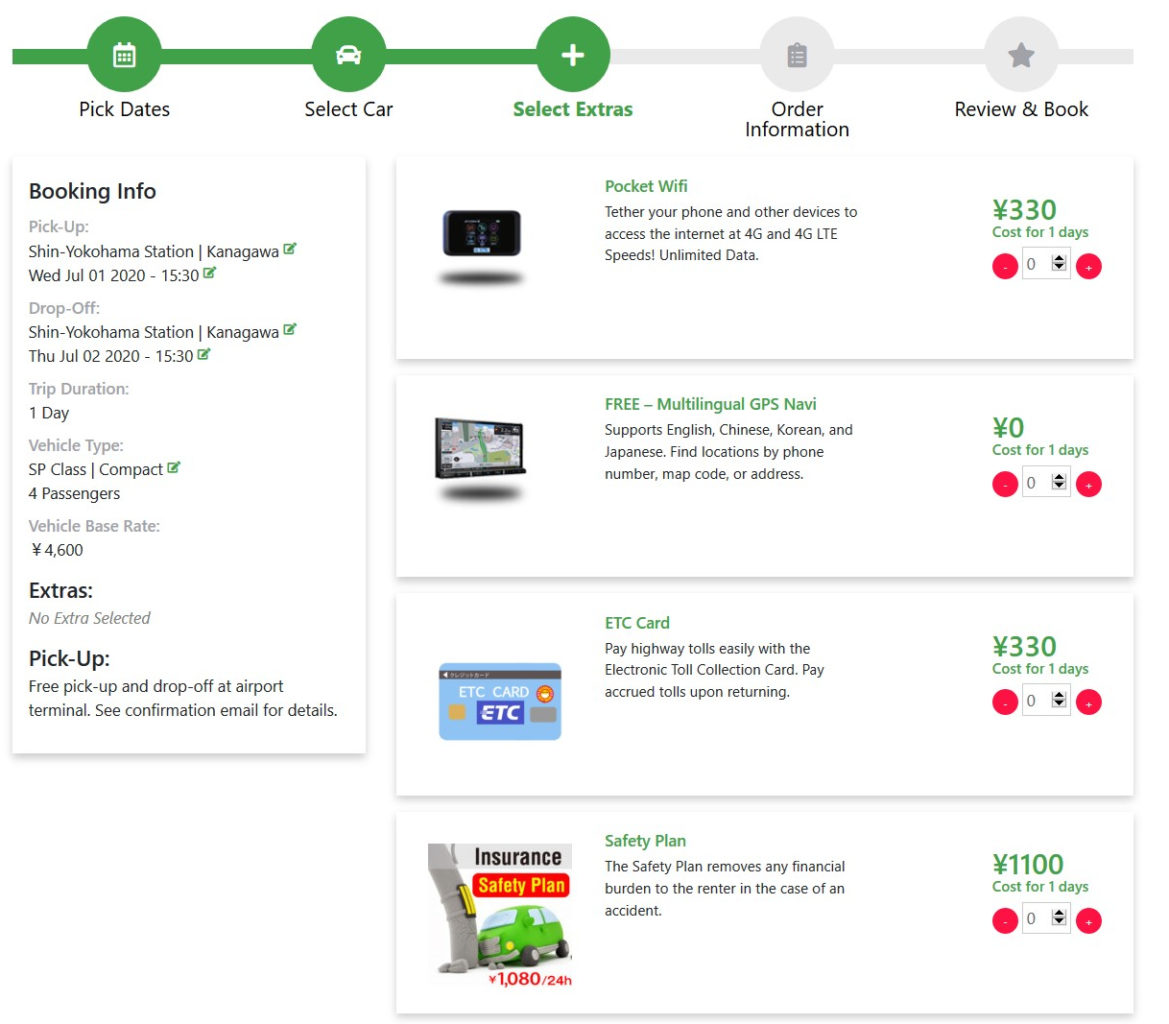 1. Afetr [Select car], it,s [Select extras] page
2. Extras options includes: ETC card, GPS, Baby seat, High way pass, Safety insurance plan and so forth.
3. Click + or – to set the number of the extra you want.
4. If done with setting of extras, click [Next]
---
STEP4. Order Information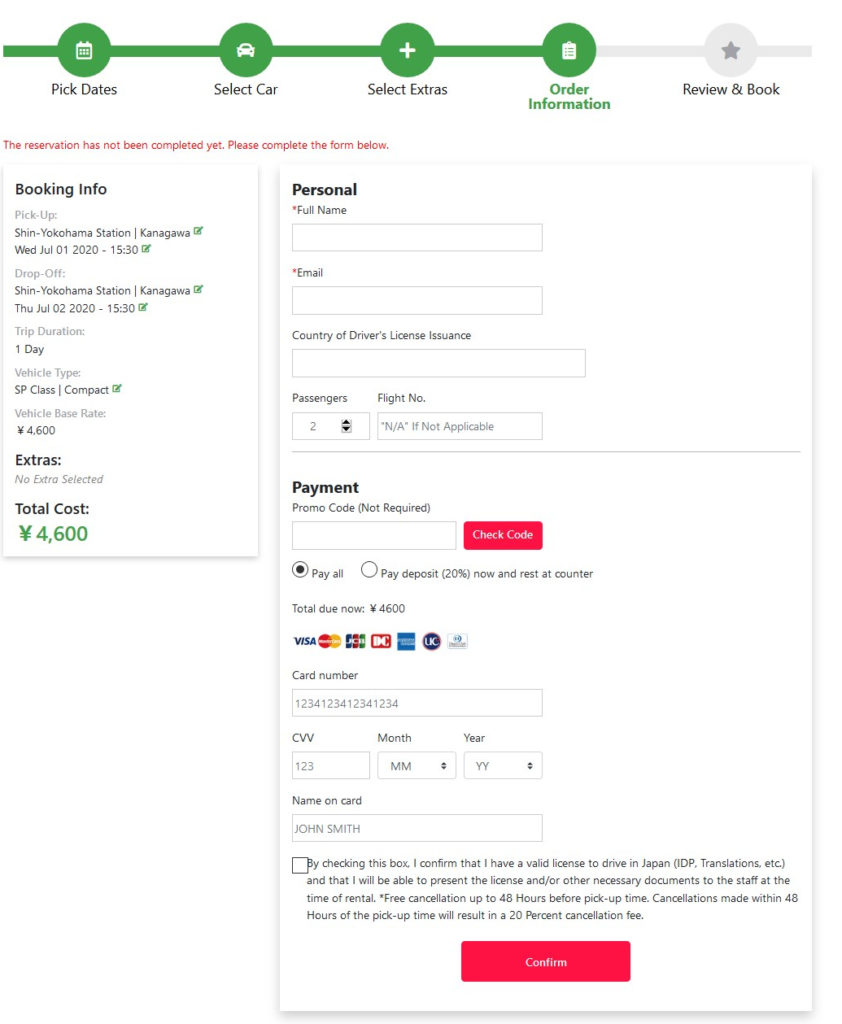 1. Input your contact information and set your payment.
2. If done with this page, click [Confirm] and reservation would be sent to our shop.
---
Confirmation Mail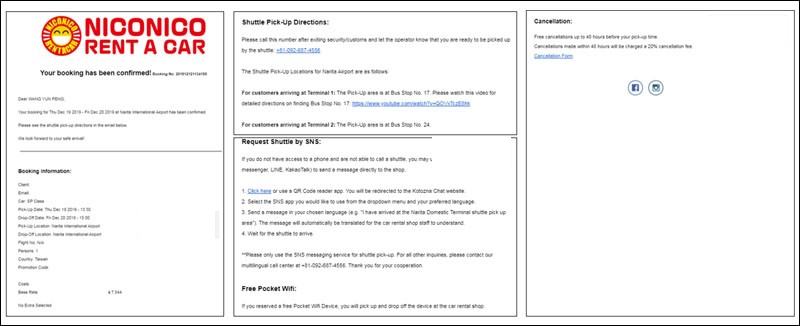 1.After finishing reservation, you will receive a confirmation mail
2.This mail will have your revervation info, shuttle bus info, our contacts and cancellation
---
Cancellation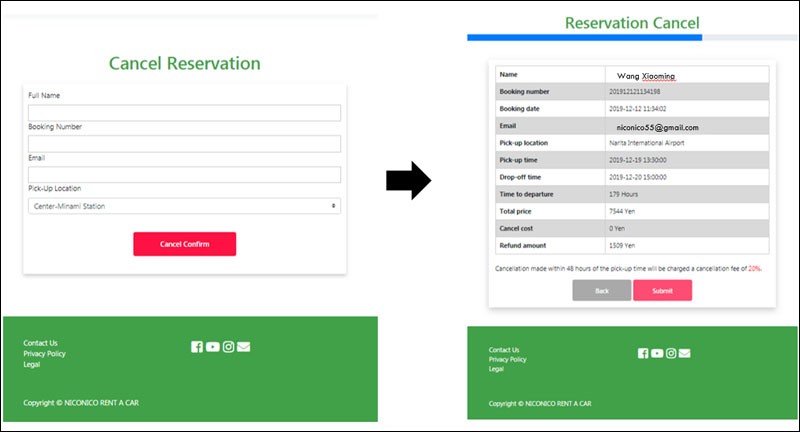 1.In cases that you have to cancel your reservation,you can do this on this page: https://niconicorentacar.jp/cancel-form/
2.When filling up cancellation application, your name,email, pick-up location/shop and booking number would be needed.
3.Afer the filling up, click [Cancel Confirm] and it would jump to Reservation Cancel page. Click [Submit] and your cancellation will be sent to us. https://niconicorentacar.jp/