Hokkaido to Kyushu: Author, Sally Jackson's Great Hot Spring Journey!
Introduction:
Sally Jackson is the author of Hot Springs of New Zealand (www.hotspringsofnz.nz) and co-author of Hiking Hot Springs in the Pacific Northwest. She's currently writing a new guidebook on Japanese hot springs which will feature 168 of Japan's best free hot springs.
The article below was written by Sally Jackson, and covers details about her research trip in Japan. Sally Jackson rented a car from NICONICO Rent a Car's New Chitose Airport shop in Hokkaido (the Northern-most island of Japan) and drove all the way down to NICONICO Rent a Car's Kagoshima Airport shop located in Kyushu (Southern-most island, excluding Okinawa). She was on a journey to explore many of the beautiful hot springs Japan has to offer. Many of them are located in secluded and secretive areas. Please enjoy her beautiful pictures and checking out her book on her website!
The Journey
No trip to Japan is complete without visiting some of its famous onsen. Last year, I spent an amazing 58 days driving the length of Japan in a NICONICO rental car, trying to get into as much hot water as possible. This was part of a three-month research trip for a new guidebook on Japanese onsen, where I visited over 200 hot springs.
It was my fifth visit to Japan and I've come to the conclusion that if you want to really explore the countryside, then renting a car is the way to go (you'll also save money on accommodation). I was assigned an incredibly helpful contact representative from NICONICO Rent a Car, who spoke fluent English. He even came up with the suggestion that I take the same car to all three islands, which saved detouring to airports and pre-arranging connecting flights. Many Japanese rental car companies won't let you take their vehicles between Hokkaido and Honshu.
I flew into Hokkaido's New Chitose Airport in early August. The staff who issued us our vehicle were incredibly patient with our long list of questions about the vehicle (especially the car navigation system). I recommend having your list drawn up in advance. The car navigation system gave accurate distances, avoided nasty narrow farm roads (unlike Google Maps) and could be set to avoid toll roads (which we did for almost the entire drive). It had a helpful database for finding convenience stores, banks and post offices etc.
My travel companion and I drove around Hokkaido for two weeks, visiting 29 free hot springs and mostly camping – which would have been impossible if we'd been using public transport.
We started by driving down a long, dead-end road to the southern edge of Daisetsuzan National Park in central Hokkaido. We stayed at the rustic (but cheap!) Shikaribetsu Gorge Campground. There's a large circular pool located on the edge of a small river, a short walk from the camp. We also found two more equally picturesque free springs a little farther upstream.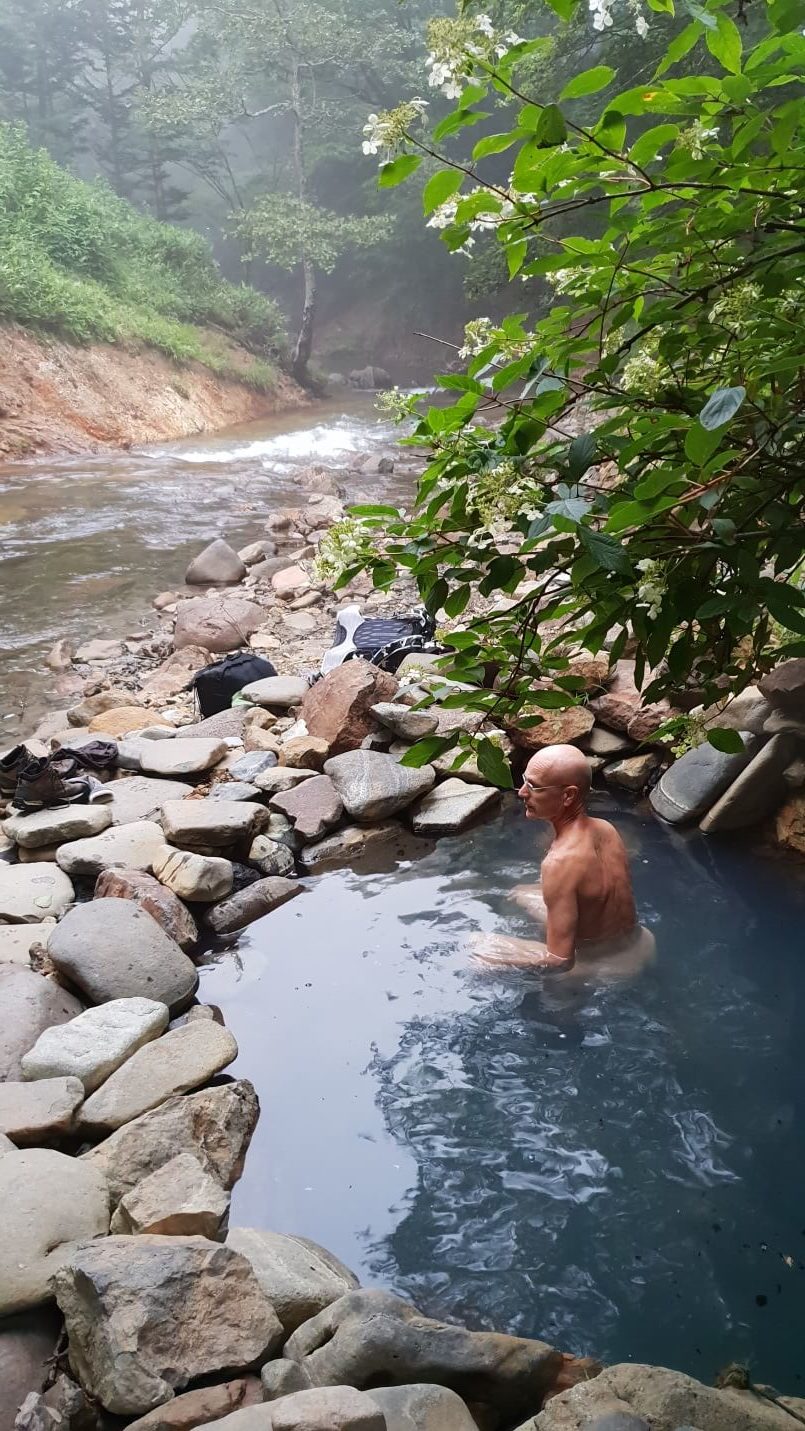 Our next stop was Lake Kussharo, where there are at least half a dozen free springs scattered along its edge. Our favourites were Kotan Onsen and Ikenoyu Outdoor Bath.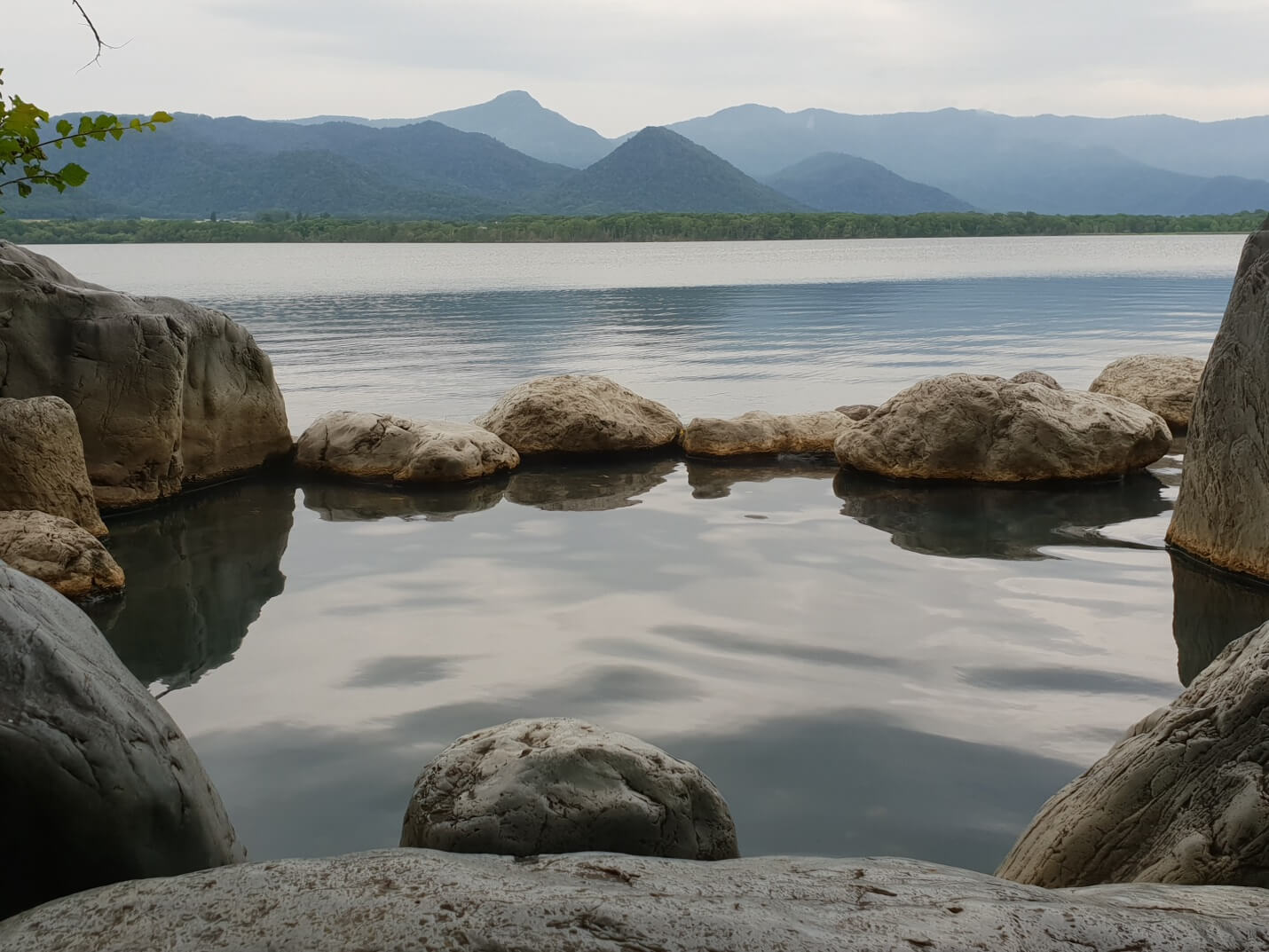 Many people are drawn to the natural splendor of the Shiretoko Peninsula, which possesses a National Park and World Heritage Site. Here we bathed in community bath houses, a warm waterfall, tidal springs and a fancy thermal spa.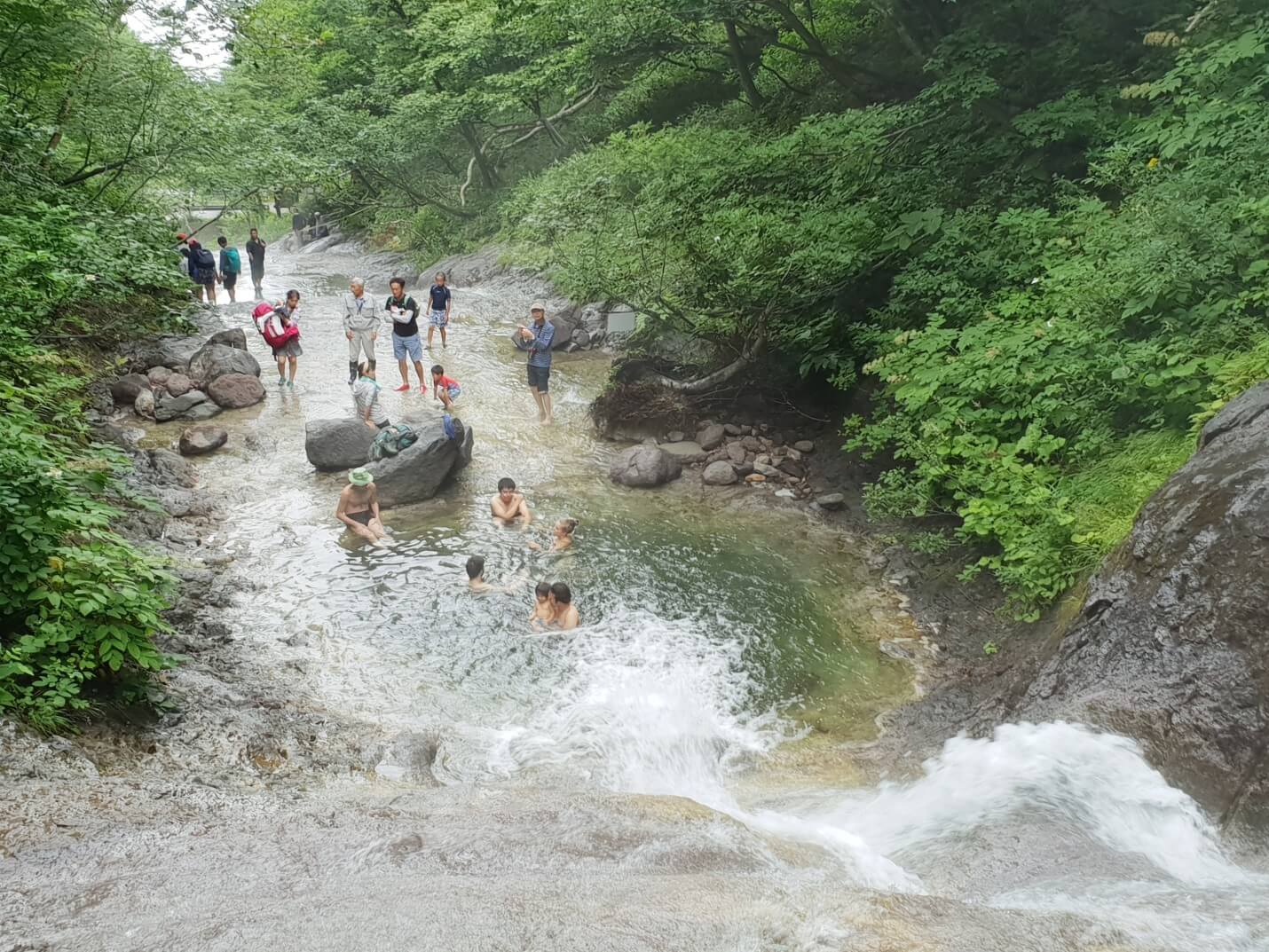 We climbed the flanks of Hokkaido's tallest peak to reach the island's highest elevation geothermal spring. The route is famous for wildflowers in the summer and for being the first place in Japan to see fall colours. An hour's drive to the south, we camped at the Fukiage Onsen carpark (along with quite a few Japanese travelers). It's a short stroll down a forest trail to reach the two well-constructed rock and cement pools. The water is quite acidic and this gives the water a distinct lemony flavor (there was a drinking cup set by one of the sources).
It was a long, but scenic, drive to Noboribetsu. This small onsen village is Hokkaido's most well-known geothermal area. We walked the interesting geothermal nature trails (well-signposted in English) and took a dip in a hot stream. It also has a nice little cluster of souvenir stores! We then drove to several more free springs all within an hour's drive of Noboribetsu before driving over to the rugged southwestern coast.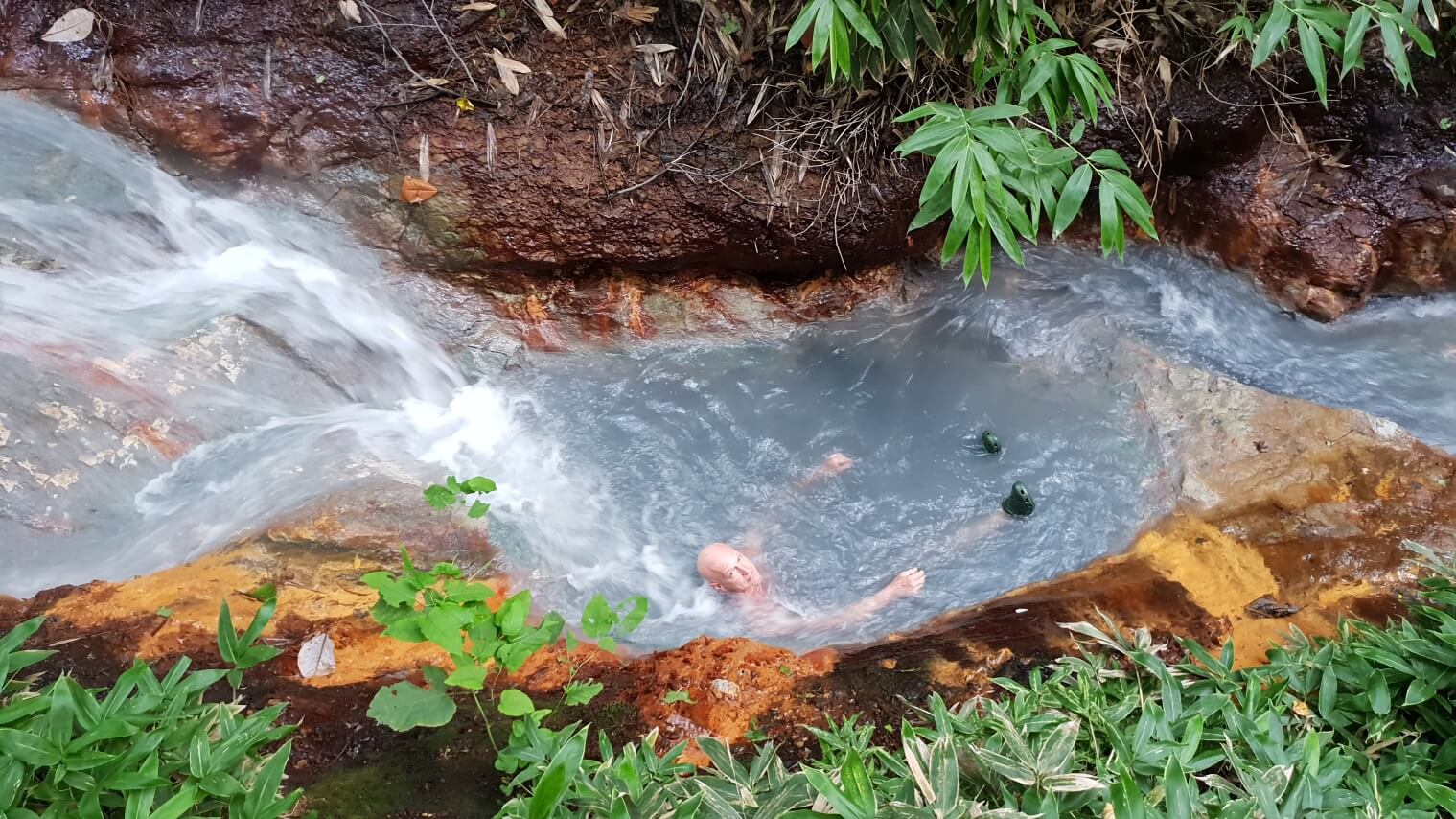 We were surprised, and impressed, to find a substantial bath house down a dead-end road, with no villages nearby as we drove south on Highway 229. This immaculately kept facility had segregated outdoor baths that are nestled at the entrance of a small gorge.
Farther south, off Highway 229, we visited a delightful hot pool formed in a bedrock hollow above a small ravine. See the photographic evidence below!
Heading towards Hakodate, we went hunting up side roads with the help of an old out-of-print onsen guidebook (written in Japanese, which we don't read so well!). We were rewarded with a small, circular pool of milky-blue water, set in a lush forest clearing.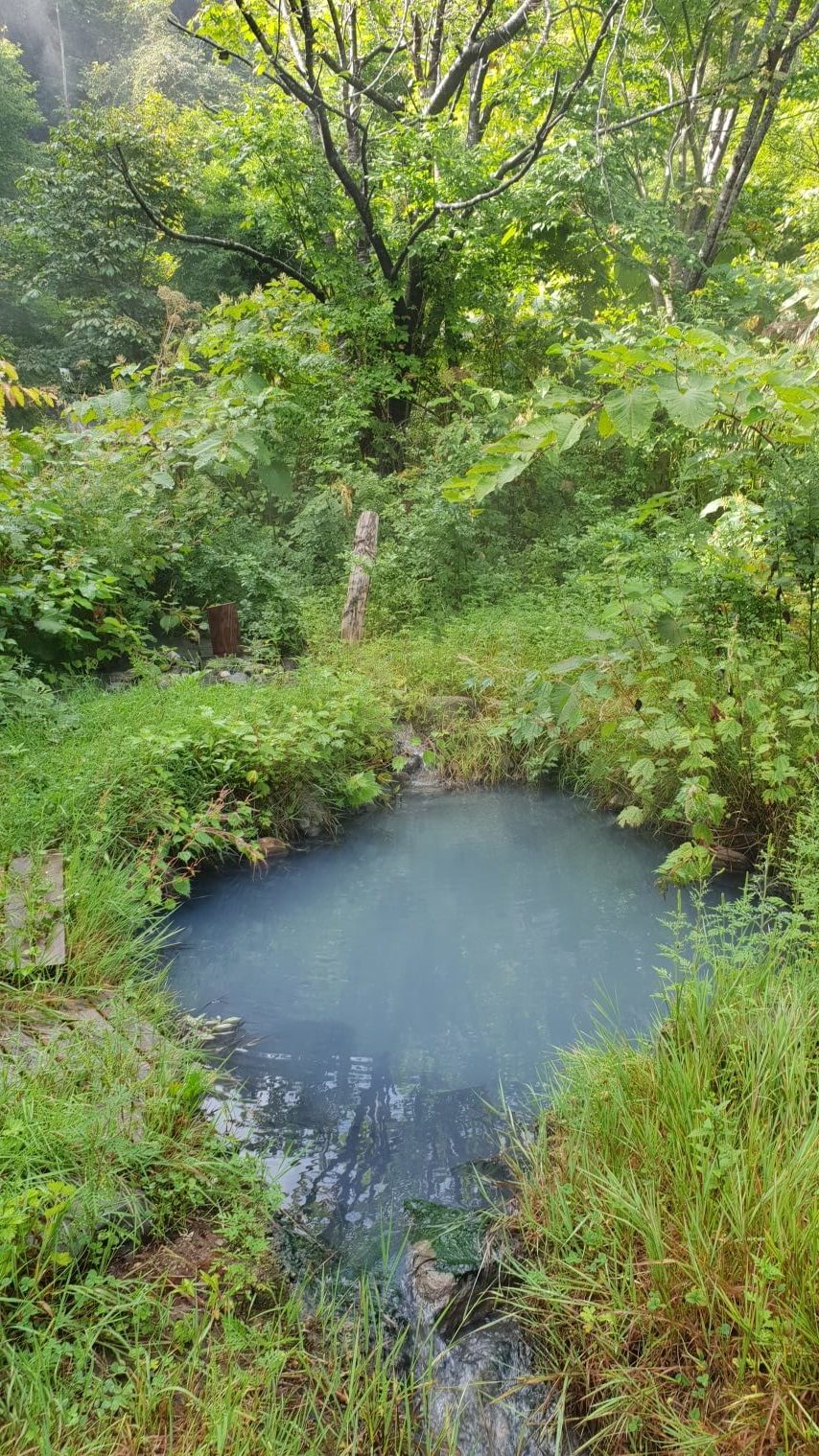 Heading southeast, we checked out the more well-known tidal pools at Mizunashi Kaihin Onsen, followed by a hidden community bath house near Mt. Esan.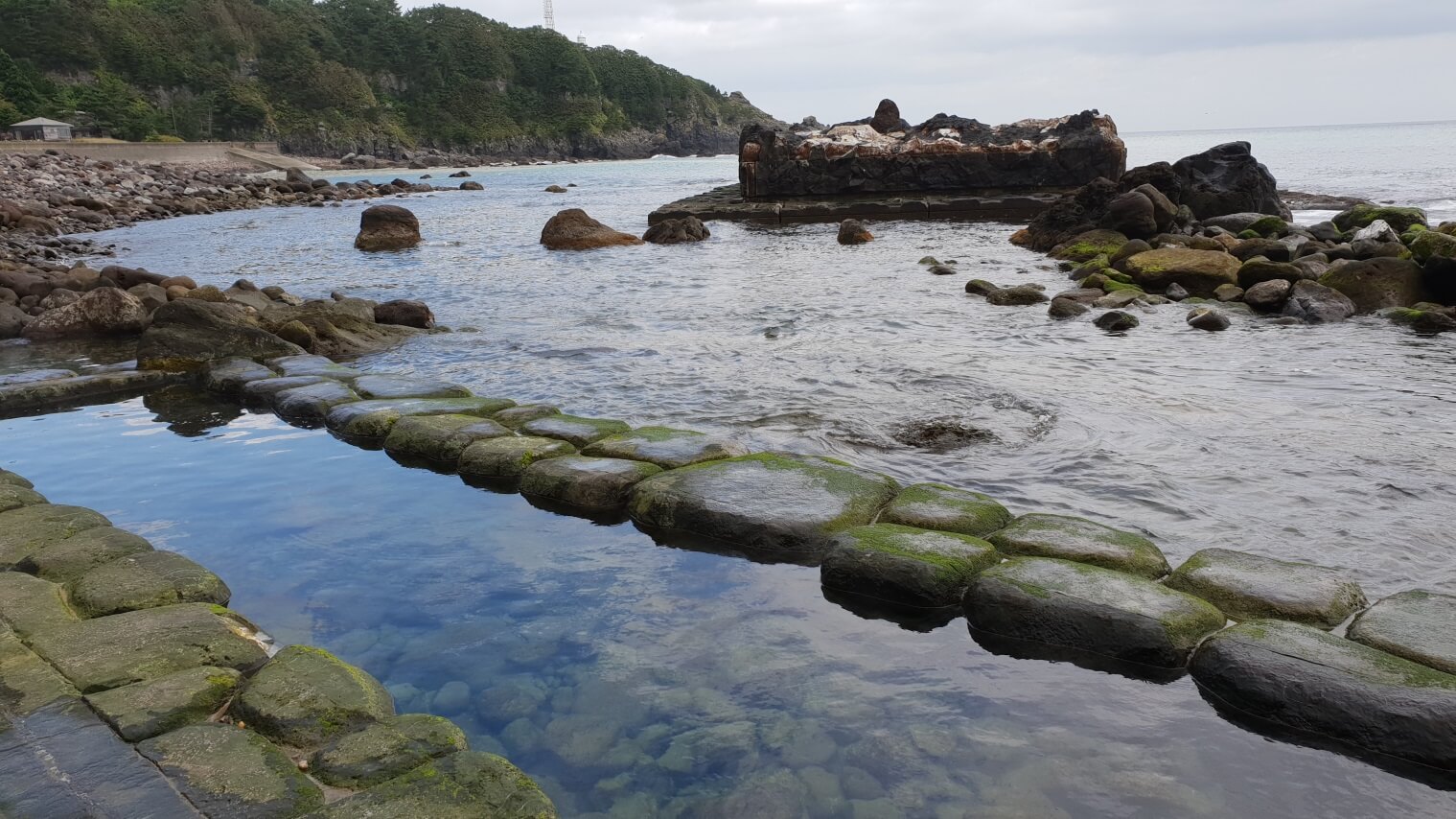 Relocating to the mainland of Honshu, we took the car ferry from Hakodate to Oma which was cheaper and more convenient than flying. One of the highlights of this remote region included the Osorezan Bodaiji Temple, which is considered one of the three most sacred sites in Japan. It's located on an active geothermal area and has four rustic wooden bath houses on the temple grounds that are open to the public.
We escaped some oppressive summer heat by camping three days in Towada-Hachimantai National Park. Here we enjoyed some world-class hiking in perfect weather, rarely seeing anyone else on the trails. We hiked two days in a row to the same incredible hot stream located on the flanks of Mt. Yake-Yama (via two different routes). This area also has several impressive traditional commercial onsen hotels.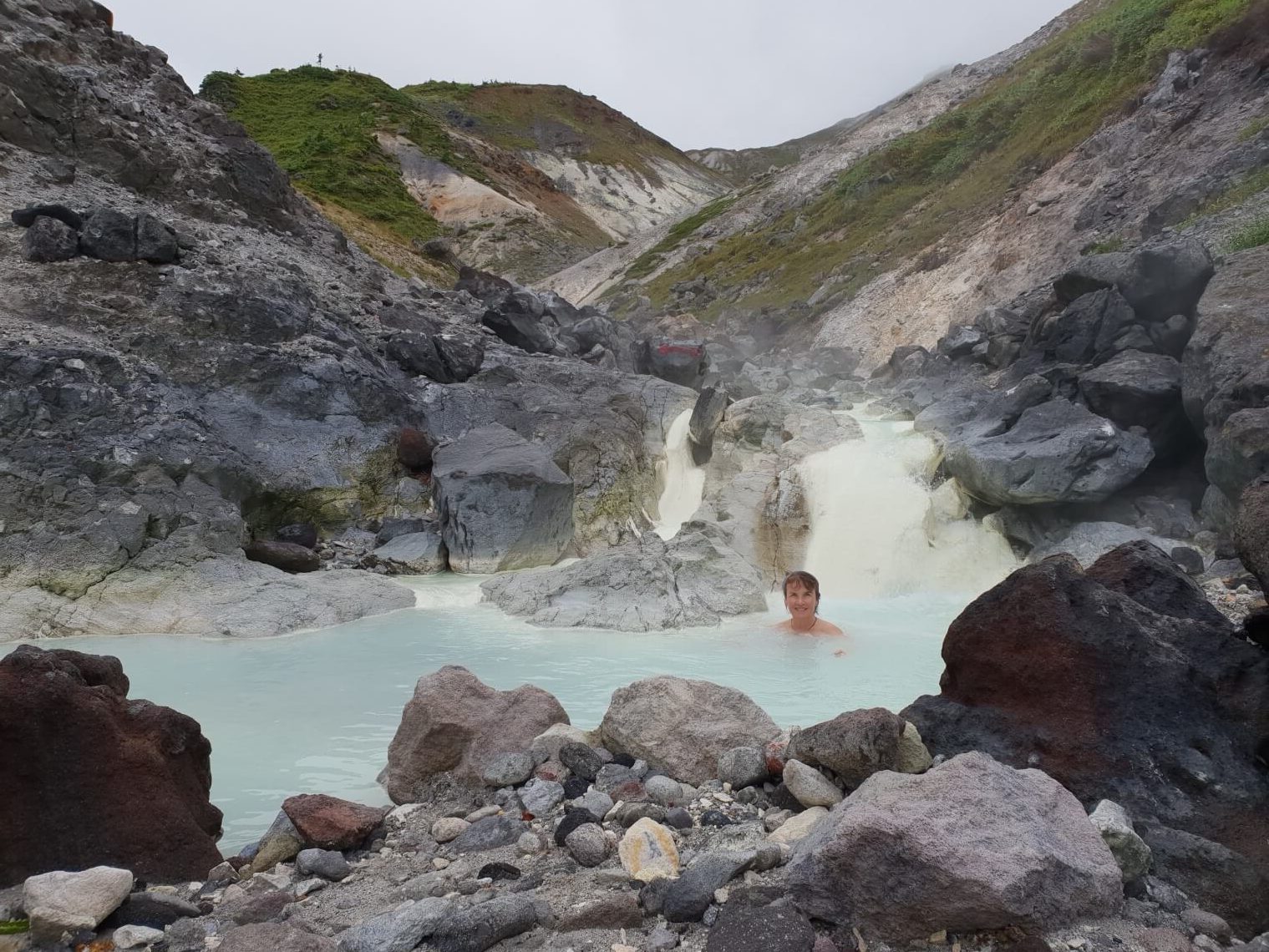 Continuing south, we spent two days sampling the waters of the many historic springs of the Nyuto Onsen area. We were particularly impressed with Tsurunoyu Onsen, which was like stepping back in time! Book well ahead if you want to stay here.
We then drove to Kawarage, which I'd visited twice before. Unfortunately, recent heavy rain had dramatically cooled the temperature of the huge warm waterfall.
We spent three nights in the large onsen town of Kusatsu. This is the geothermal jewel of Gunma Prefecture, and many Japanese take holidays here. We enjoyed the friendly and relaxed atmosphere, which included visitors wandering about in their hotel yukatas (robes). It was not quite so relaxing attempting to visit all of Kusatsu's 18 free bath houses in just two days.
A small detour was made to visit Jigokudani Monkey Park, home of the world-famous 'snow monkeys'. Two hours later, I almost needed a rope to drag my enamoured travel companion away. We stayed two nights at the small, but well-known ski-village of Nozawa. I spent the following day walking to 13 free onsen, many of which are housed in elaborate temple-like structures.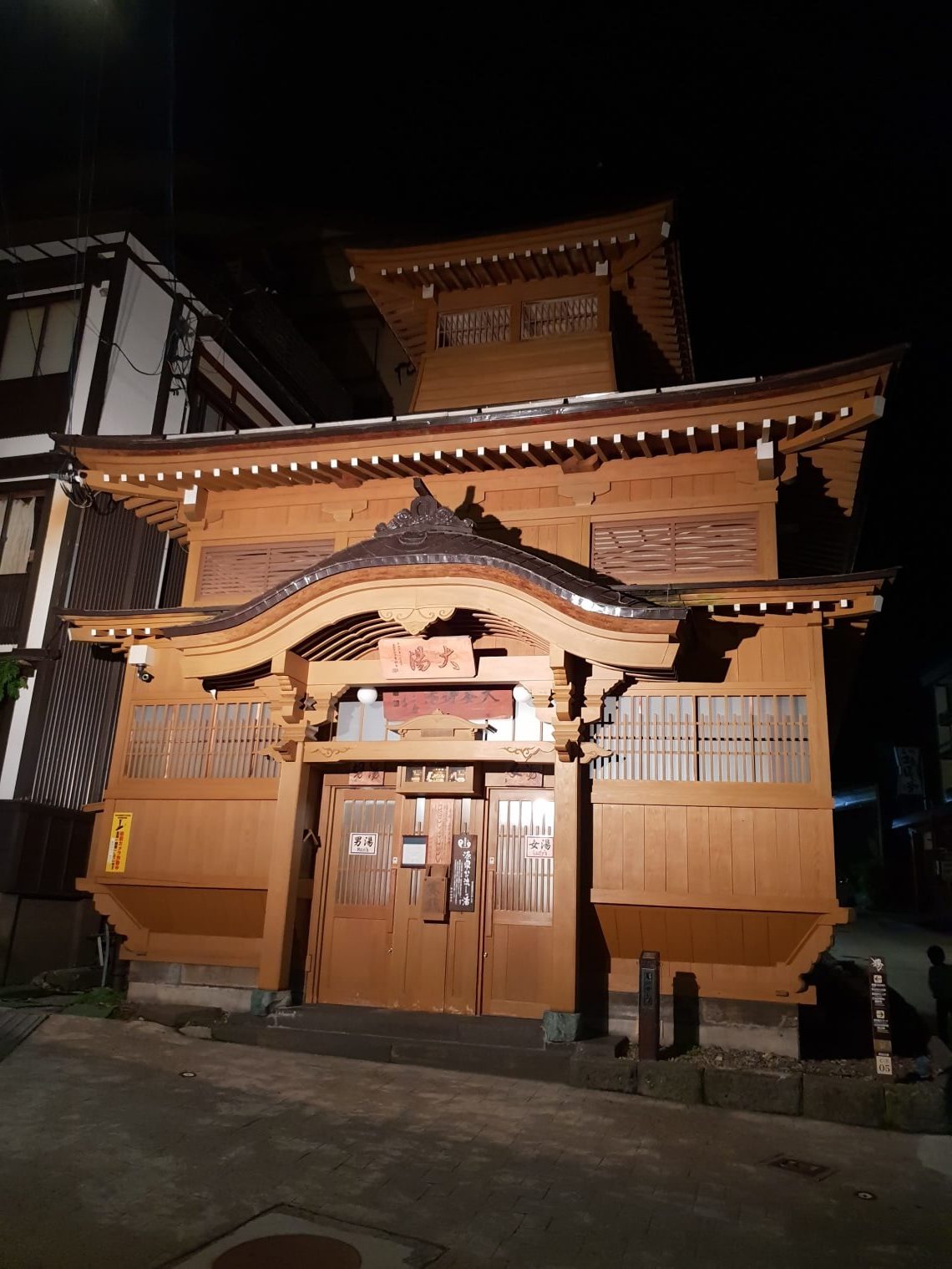 I spent a few more days in Nagano prefecture based near Tsubame Onsen, hunting down some incredibly photogenic hot springs.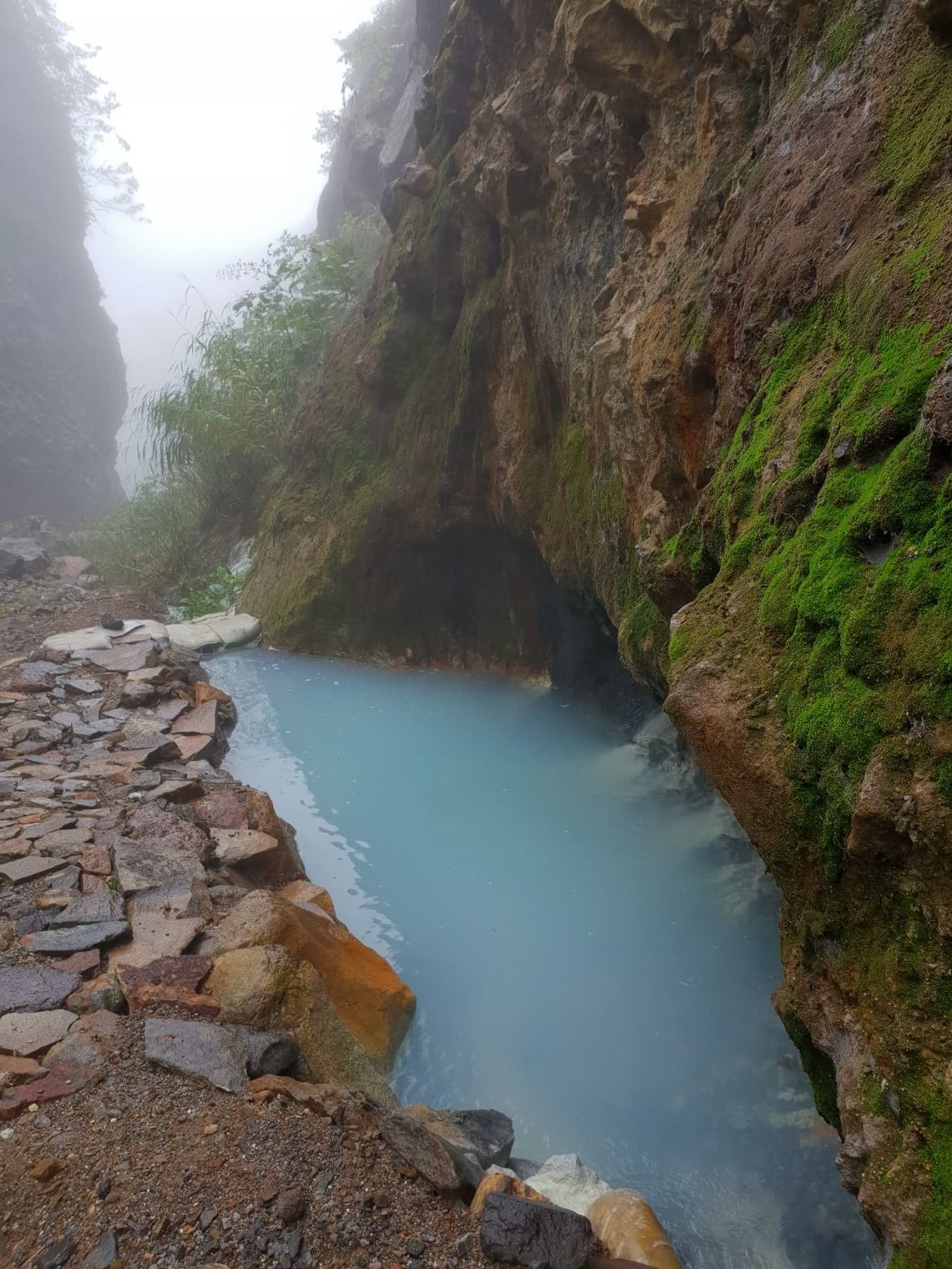 One of the hiking-highlights was an overnight trip to Azohara Onsen via a 12km path built precariously along a granite mountainside in Kurobe Gorge. It reminded me of Yosemite, but without the crowds. We camped near the hot pool that was being fed by a spring issuing out of an abandoned railway tunnel.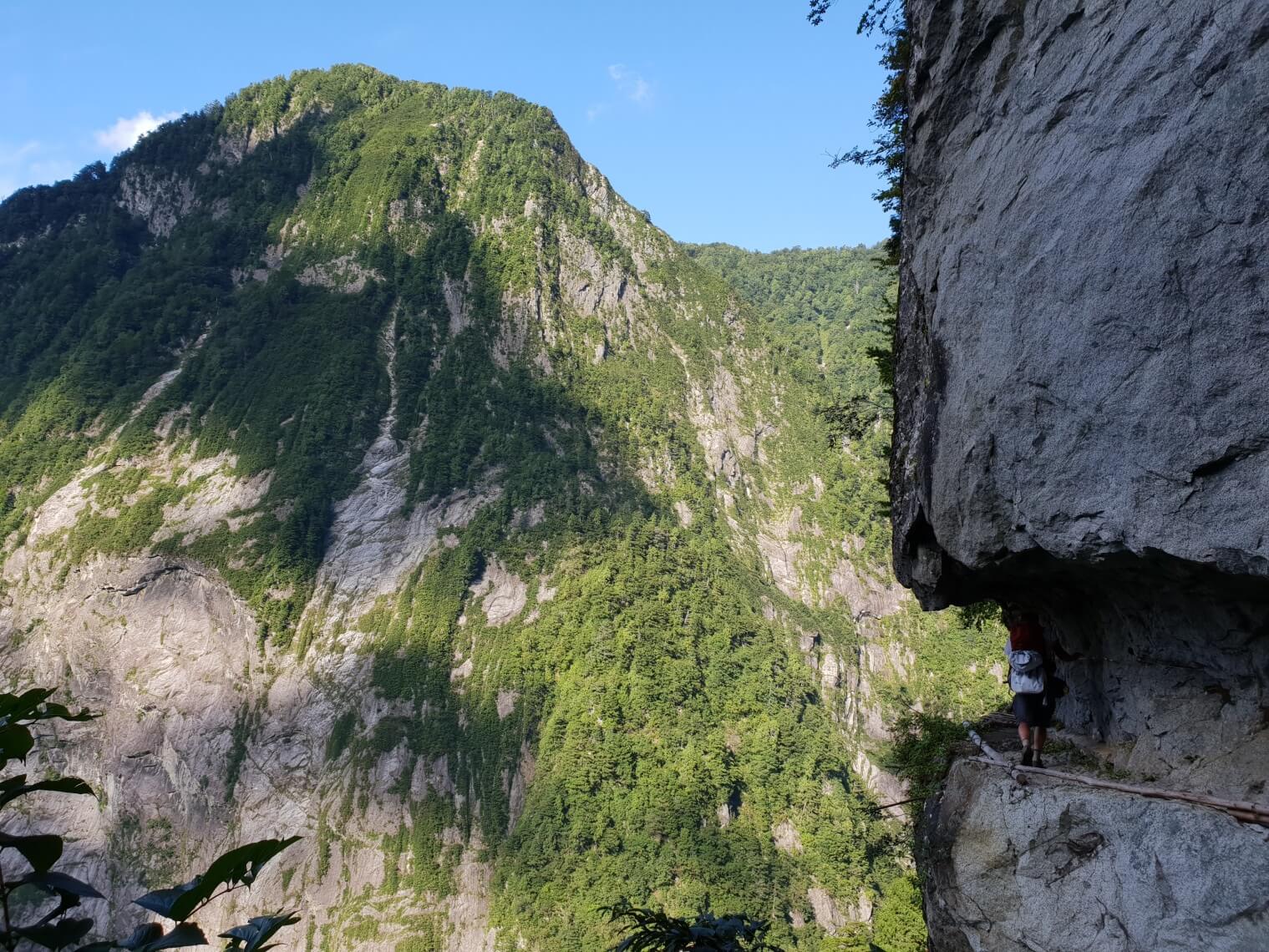 Izu Peninisula was well worth the long drive. It was the end of September, with sublime weather and a surprising absence of fellow-visitors. This area is blessed with some ridiculously scenic coastline and there are several free pools where you can soak while taking in these views. We also splashed out and visited the upmarket Odaru Onsen which boasts hot pools at the base of a thundering waterfall, as well as a cave pool behind it!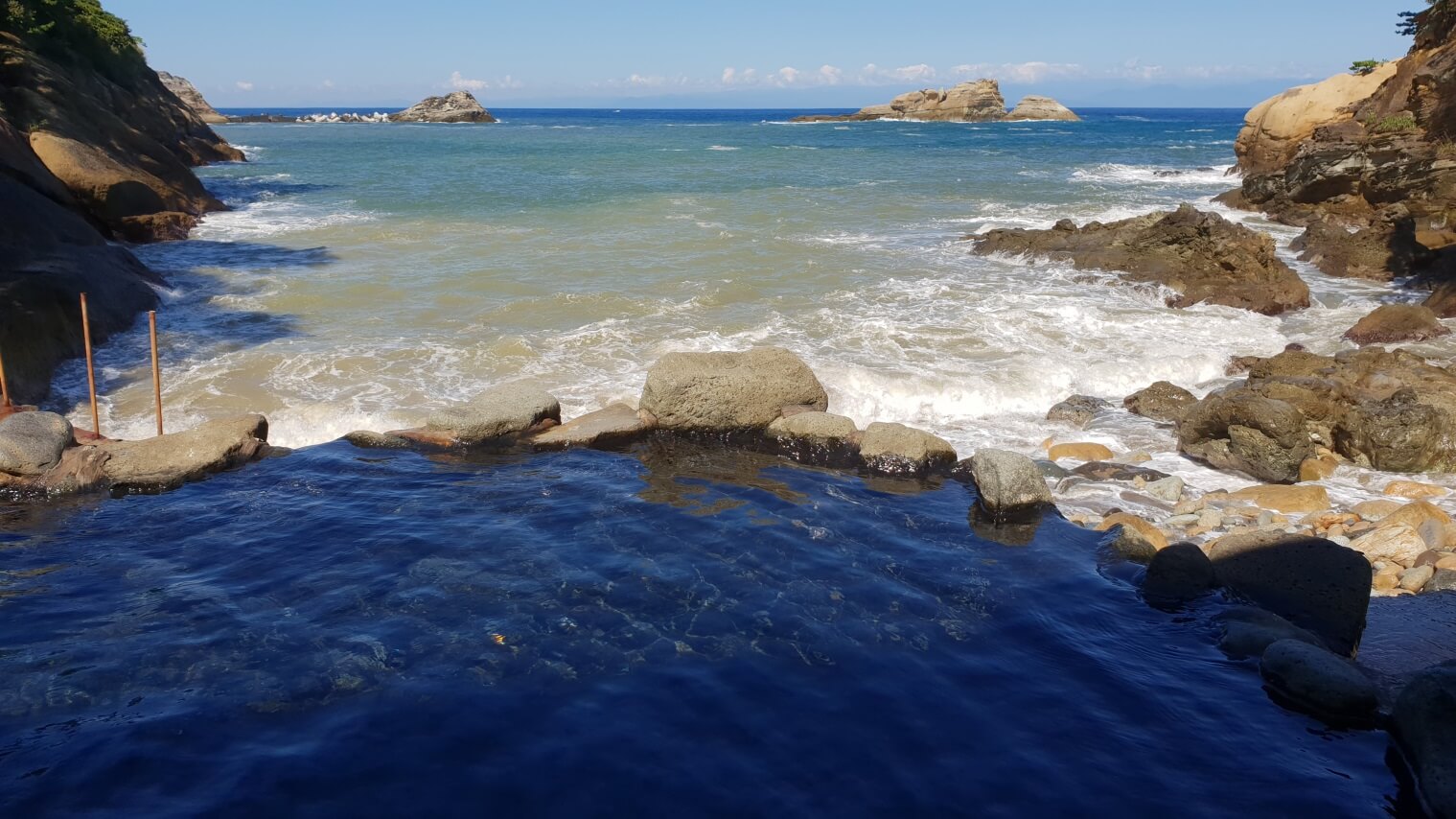 For the last two weeks of this road trip, I was joined by a Canadian friend and her 10 month old daughter. This would not have been possible for them without the rental car. We often camped, sometimes stayed at AirBnB's or hot springs inns, and even stayed a night at a Zen Buddhist temple (as their first ever guests!).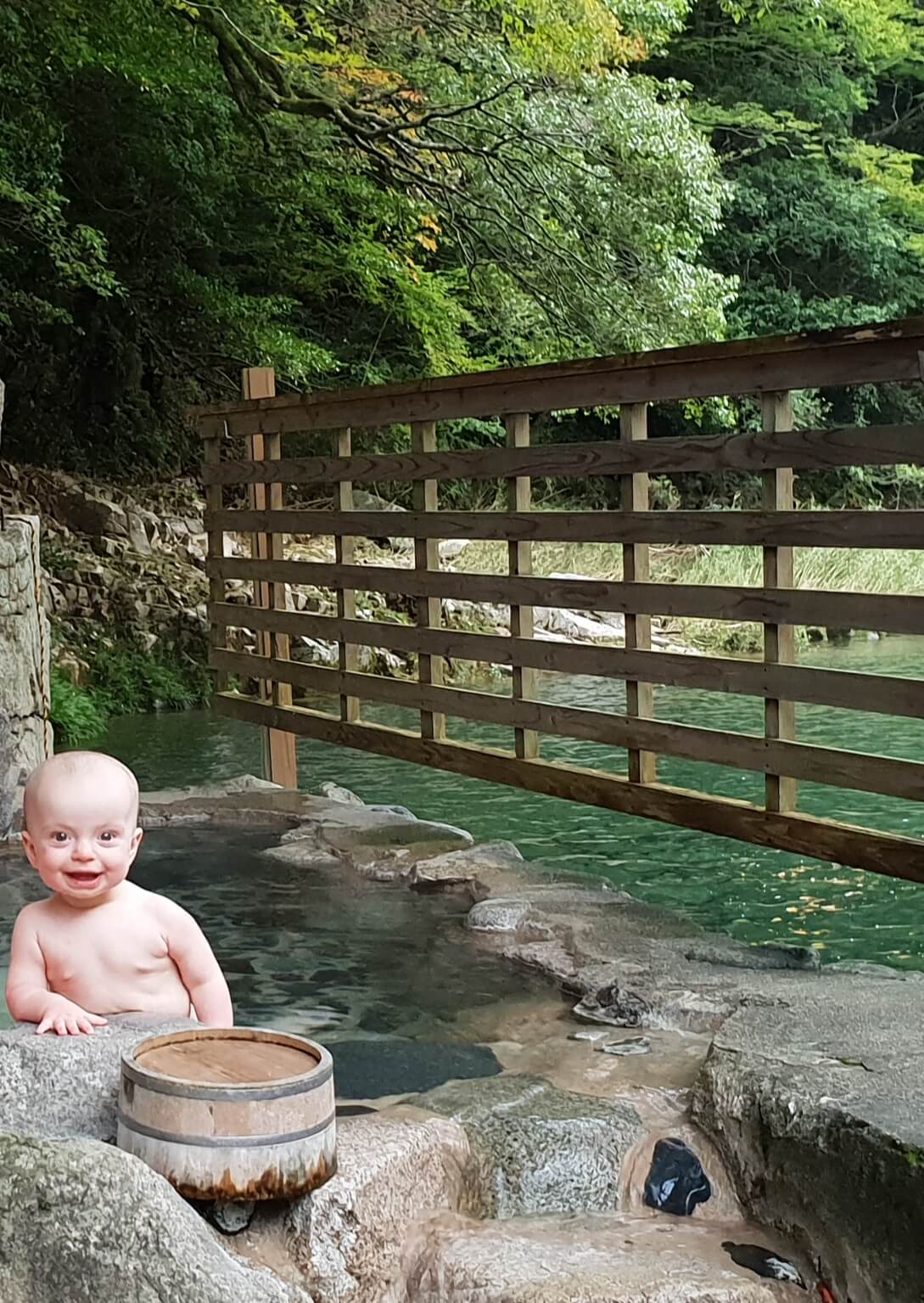 We drove from the islands of Honshu to Kyushu via a tunnel which cost just US$12. Spring or late autumn is the best time to visit Kyushu (not too hot and outside of the typhoon-season).
The small city of Beppu is one of Japan's more famous geothermal destinations with its many inexpensive community bath houses, hot sand baths and seven jigoku (high temperature springs designated for viewing rather than soaking). We drove into the foot-hills and soaked in three very different free springs. Lunch consisted of eggs, sweet potato, rice balls and milk puddings, all cooked in geothermal steam ovens at Myoban Onsen.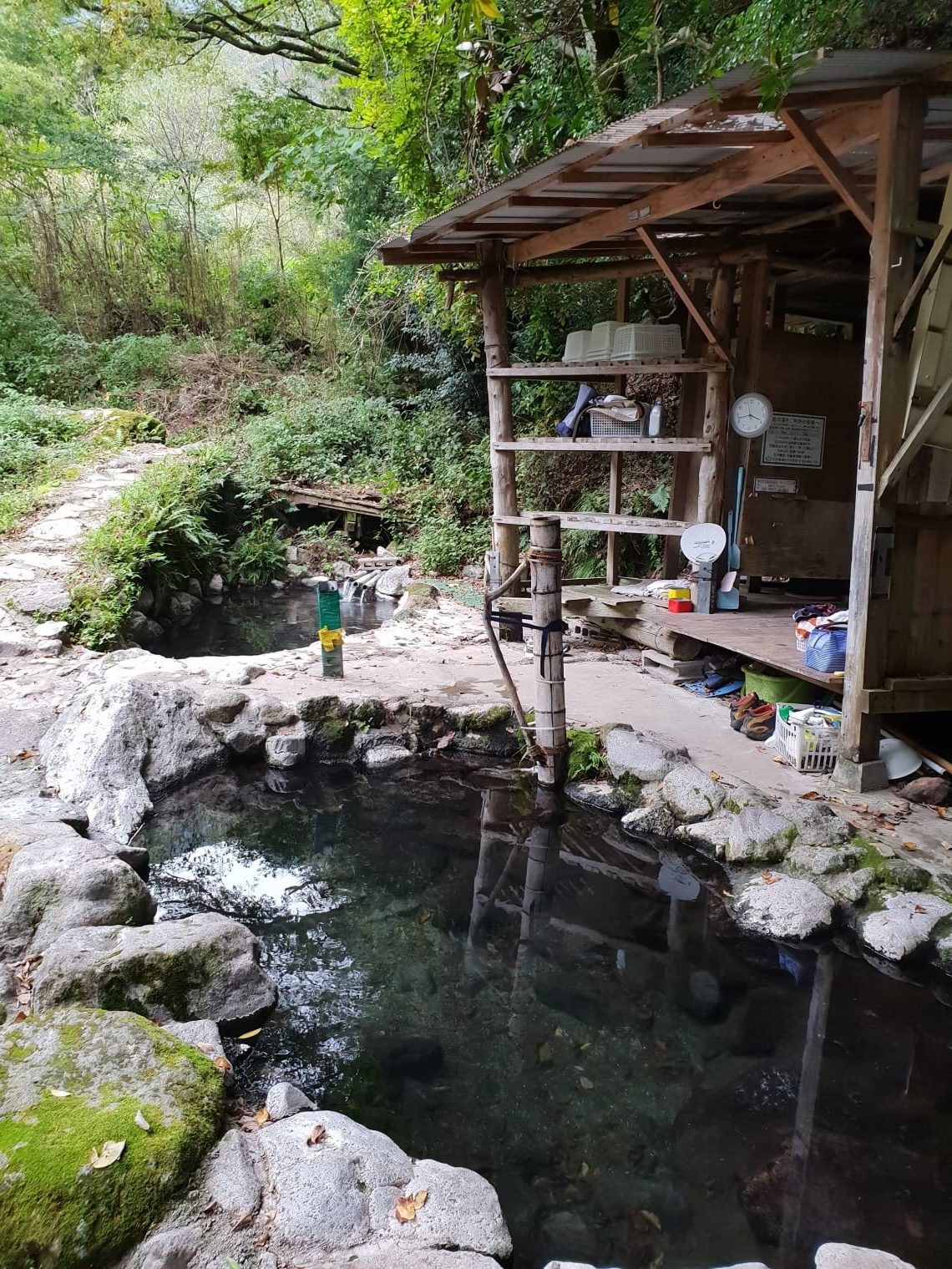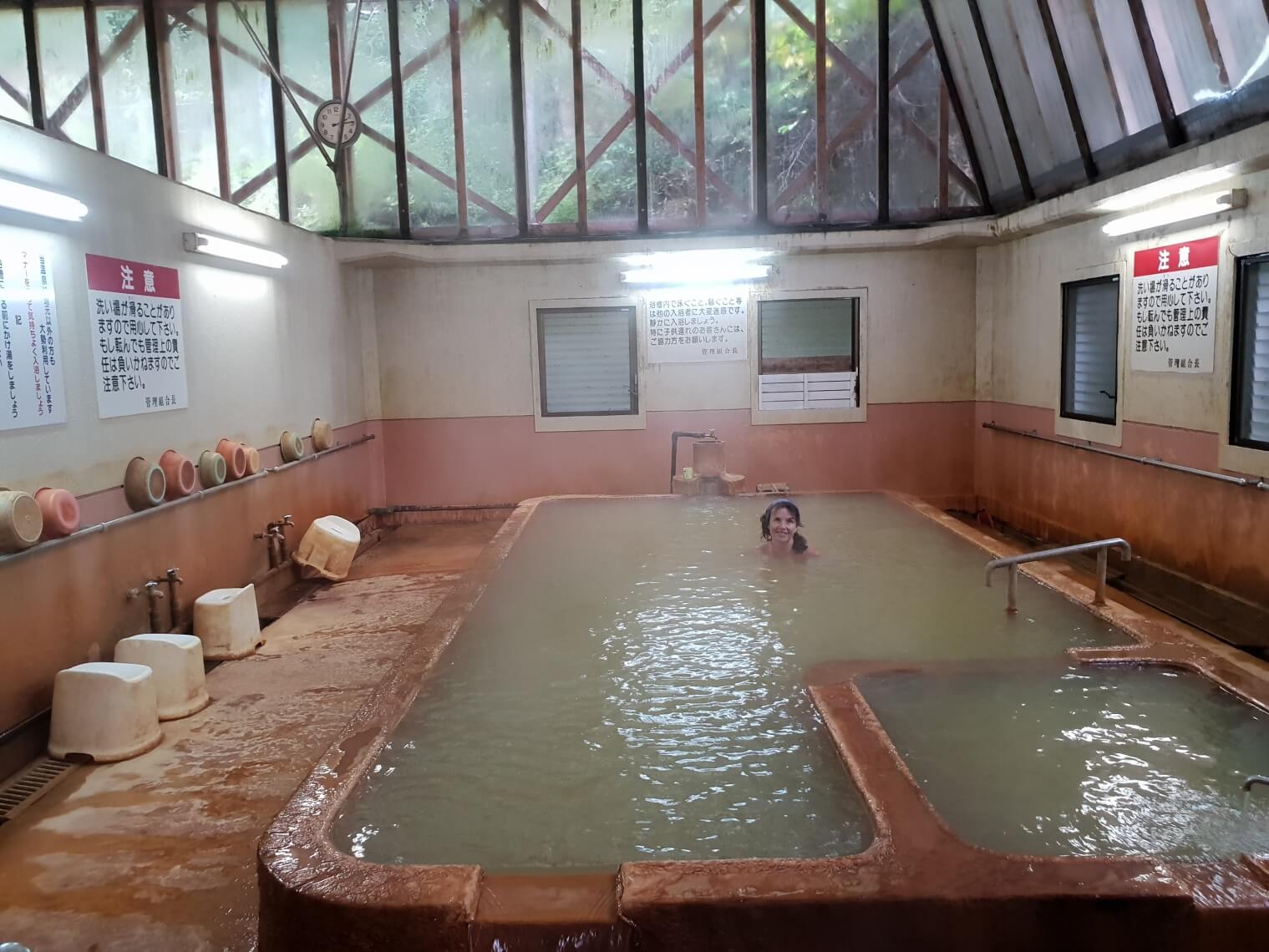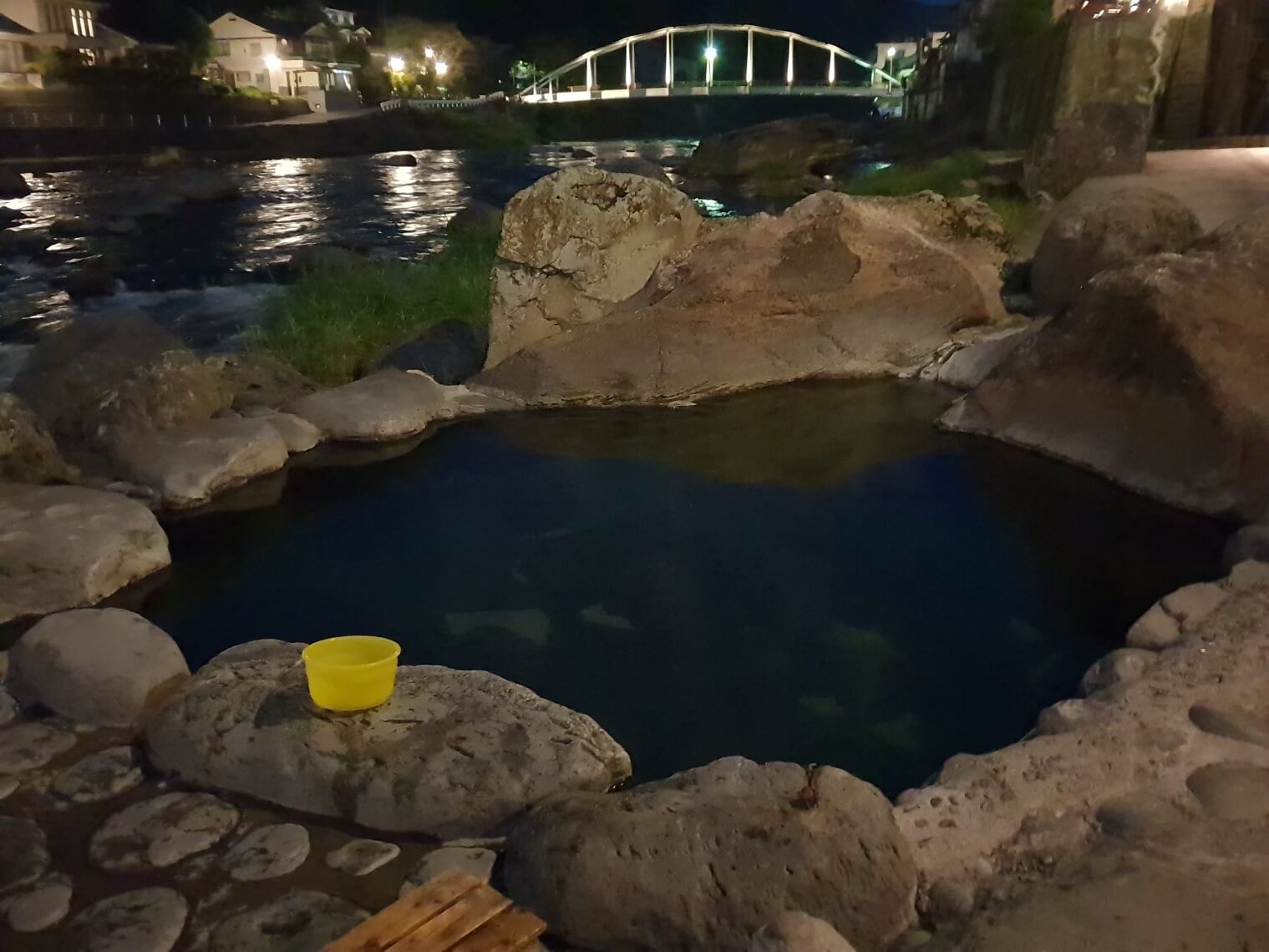 We dropped the reliable four-door hatchback to Kagoshima before commencing three weeks on ferries to visit several small islands and their onsen (but that's another story!).