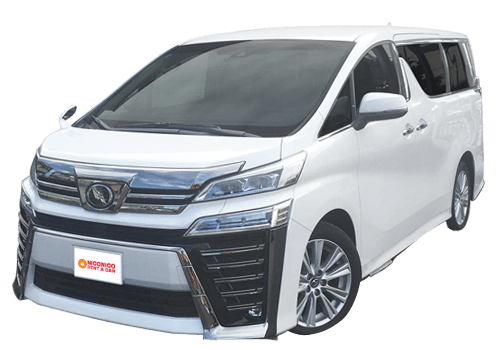 Car Models:

Toyota Velfire, Toyota Alphard

Passengers:

8

Suitcases:

3

Price:

1 Hour : 5,000JPY
6 Hours: 17,000JPY
12 Hours: 17,000JPY
24 Hours: 30,000JPY


Long-Term Rental Discount Rates:

1 Week: 150,000JPYtest
1 Month: 500,000JPY
Luxury Minivan Rental in Japan
Traveling to Japan with a group of 4 or more?
We highly recommend the V Class for maximum comfort and driving pleasure!
Although the V Class and F Class are both minivan classes that seat 7-8 passengers, the V Class provides more space and comfort than the F Class. It also has a slightly larger trunk space for those concerned with bringing large luggage.
The Toyota Vellfire and Alphard are the highest demanded rental car vehicles in Japan, and we are happy to offer you the best prices for them!
All of our V Class vehicles are equipped with a Multilingual GPS Navigation system and are covered by the Collision Damage Waiver at no additional cost. If you rent the V Class from Narita Aiport, Haneda Airport, Fukuoka Airport, or New Chitose Airport.
Come explore Japan in comfort and style with the V Class and see why it is our most popular rental!
Differences Between the Vellfire and Alphard?
Besides a few style differences and a small length difference, the two vehicles are almost identical in specs.
| Specification | Toyota Vellfire | Toyota Alphard |
| --- | --- | --- |
| PAX | 7-8 | 7-8 |
| Doors | 5 | 5 |
| Length | 4,930mm | 4,915mm |
| Width | 1,850mm | 1,850mm |
| Height | 1,895mm | 1,895mm |
| Engine | 2,494CC | 2,494CC |
As you can see from the table above, the only notable difference is an additional 15mm in length for the Vellfire.
*Specific models can not be chosen, however, you are guaranteed to be assigned a Toyota Vellfire or Toyota Alphard (Almost identical in size and design). Your vehicle will be assigned based on availability.