Car Rental – Wifi Option
---
Introduction:
NICONICO Rent a Car is providing Pocket Wifi rentals for 330円 per day!
Book a car and the pocket Wifi device directly through our website: NICONICO Rent a Car website.
This option is available for all bookings, all vehicles, and all rental locations while supplies last.
---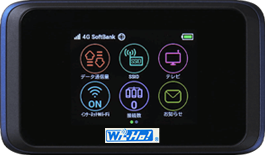 4G LTE
Unlimited Data
Pick-Up at Shop
330円 per day
---
NOTES
Losing or damaging the pocket Wifi device will result in a 30,000JPY fee.
What is pocket Wifi?
Pocket Wifi is a portable device that enables you to tether your electronics and connect to a 4G/4G LTE network.
How do I receive the pocket Wifi?
The Pocket Wifi will be prepared with your vehicle and you will receive it at the shop counter.
Damage/Loss Fees
We respectfully request that customers be careful with the device and make sure not to lose it.
In the case where a customer loses the device, they will be required to pay the fees listed below:
Pocket Wifi Device:30,000円
Carrying Case:2,000円
Charger & Cable:2,000円
Manual:3,000円
Battery:8,000円

Book Now!