보험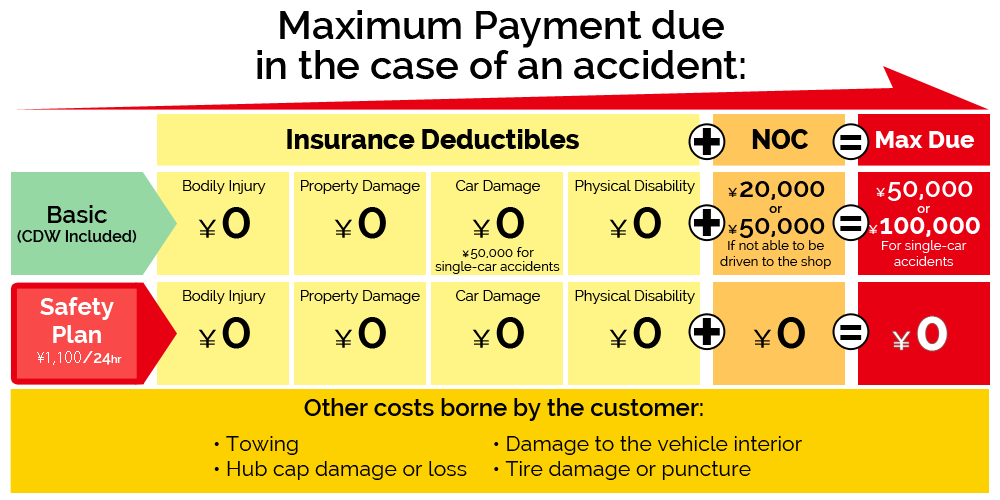 In the case of an accident during your rental period, you will receive insurance compensation up to the following amounts described below:
| | |
| --- | --- |
| Bodily Injury | Unlimited Per Person (Including Automobile Liability Insurance) |
| Property Damage | Unlimited Per Accident |
| Car Damage | Up to the Actual Value of the Accident |
| Physical Disability | Up To ¥30 Million Per Accident |
*Bodily Injury → Applies to persons in other party
*Physical Disability → Applies to passengers in rented vehicle
Instances Not Covered By Insurance

Accidents occuring while the driver is under the influence of drugs or alcohol.
Accidents occuring in violation of items included in the rental agreement.
Accidents occuring while the driver is driving without a driver's license.
An accident report is not recorded with the police.
An accident occuring at a time later than agreed upon in the rental agreement.
Costs Beared by the Customer

Blowout or Tire Damage
Loss or damage of Hubcaps
Defacement of vehicle interior
Towing fees
Any excess not covered by the insurance coverage and the CDW
Non-Operation Charge (NOC)
Max ¥50,000 Fee in the case of a *Single Car Accident
What is the Non-Operation Charge (NOC)?

The NOC is a fee payed by the customer in the case where a vehicle is damaged (accident or otherwise). This is to compensate the shop for the loss of business during the time that the vehicle is undergoing repairs. The fee is ¥20,000 if the vehicle can be driven back to the shop or ¥50,000 in the case where the vehicle can not be driven back to the shop. If you purchased the Safety Plan, you will be exempted from the NOC. *In the case that the vehicle cannot be driven, you will be charged for towing.
What is a Collision Damage Waiver (CDW)?

For most rental car companies, if a customer gets into a vehicle accident, the customer would be required to pay the cost of the insurance deductibles. With the CDW these deductibles are waived (with the exception of single-car accidents), and the customer will not be required to pay them. All rentals made with NICONICO Rent a Car include the CDW free of charge.
What is a Single-Car Accident?

A Single-Car Accident is when damage occurs to the rented car that is not the result of a collision with another moving car. An accident where the rented car is crashed into a guardrail or utility pole, run-off road collisions, hit-and-runs, etc. In the occurrence of a single-car accident, you will be required to pay for the damage, up to a maximum of 50,000 yen.