Free Wifi Included with Car Rental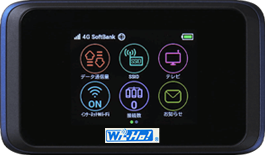 4G LTE
Unlimited Data
Pick-Up at Airport counter
Free for entire rental duration
Introduction:
Starting from October 12, 2018 NICONICO Rent a Car is providing Free pocket Wifi rentals to all customers that book a car through the NICONICO Rent a Car website.
This free service is valid for all bookings made at the New Chitose Airport, Narita Airport, Haneda Airport, and Fukuoka Airport locations. Losing or damaging the pocket Wifi device will result in a 30,000JPY fee.
After you book a car, you will automatically receive an email from TelecomSquare with a map and directions to your nearest in-airport Wifi pick-up area.
What is pocket Wifi?
Pocket Wifi is a portable device that enables you to tether your electronics and connect to a 4G/4G LTE network.
How long can I use the pocket Wifi?
The pocket Wifi is free for the entire duration of your rental. There are no usage limits or data limits. It is unlimited.
How do I receive the pocket Wifi?
The pocket Wifi is distributed at airport counters and operated by our business partners at TelecomSquare. This will give you instant access to the internet, even before you pick up your car!
Damage/Loss Fees
Although the pocket Wifi is offered as a free service, we request that customers be careful with the device and make sure not to lose it.
In the case where a customer loses the device, they will be required to pay the fees listed below:
Pocket Wifi Device:40,000円
Carrying Case:2,000円
Charger & Cable:2,000円
Manual:3,000円
Battery:8,000円